This Salmon Cauliflower Tabbouleh bowl by Mealplan Nutrition Expert Dasha Gaivoronski uses cauliflower rice for a clean, low-carb meal or two. At 36 grams of protein per serving, this dish also provides essential omega-3 fatty acids, as well as vitamins B, C and K, folate and fiber.

As part of Dasha's Intermittent Fasting Mealplan, this well-balanced meal is designed to be eaten within a designated eating window, but can of course be enjoyed any time. Packed with herbs and spices, it's simple to prepare and a great meal prep option for busy weeks.

Curious if intermittent fasting is right for you? Read Dasha's blog post on the benefits and risks of intermittent fasting for women.

Adding salmon to your meal regimen is not only a great source of protein and omega-3s, but a treasure trove of B vitamins, potassium, selenium and astaxanthin, an anti-oxidant found to lower the risk of heart disease. Eating more salmon may also help reduce inflammation and promote brain health.

However, fish isn't for everyone. If you're not a fan of fish, substitute the protein in this recipe with chicken breast, a lean cut of beef or sautéed tofu.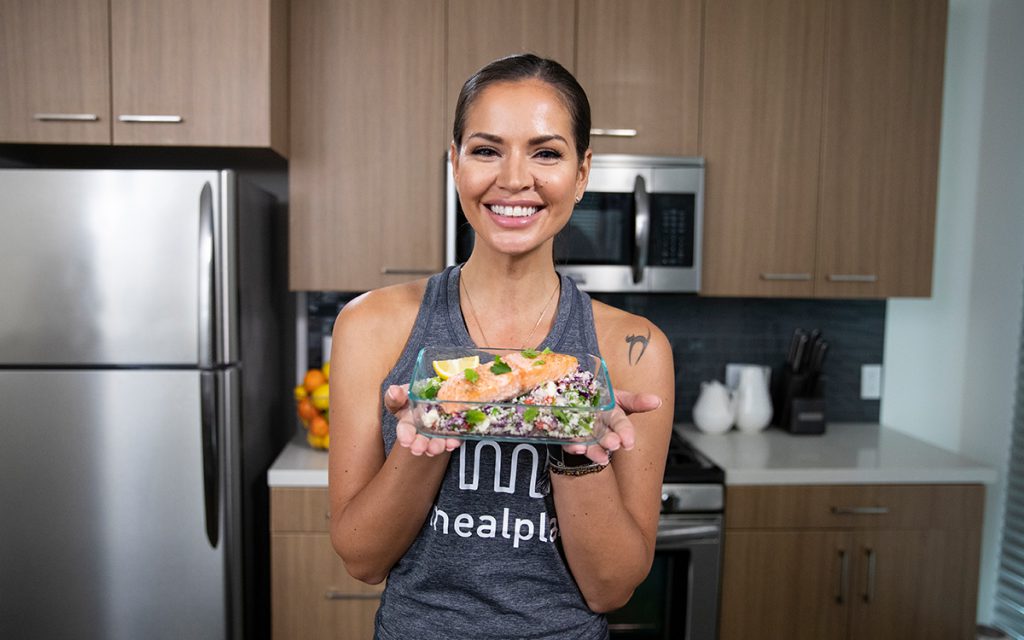 Salmon Cauliflower Tabbouleh Bowl

Ingredients:

2 wild salmon filets
1/2 cup cauliflower florets
1/2 cup red cabbage
1/2 cup sugar snap peas
1/3 cup red bell pepper
1/4 red onion
1/4 cup fresh parsley
2 tbsp feta cheese
1/2 tsp sea salt
1 tsp black pepper


Directions:
Watch Dasha's mini tutorial above.

1. Preheat the oven to 400°F/200°C.
2. Add cauliflower florets to a food processor. Blend to form cauliflower rice.
3. Transfer cauliflower rice to a bowl and microwave on high for approximately 3 to 4 minutes. (Alternatively, add cauliflower rice to a small skillet along with 1 tsp of olive oil and cook for 5 to 6 minutes).
4. Remove from the microwave/stovetop and let it cool. Fluff the cauliflower rice with a fork.
5. Line a baking sheet with parchment paper. Season salmon with sea salt, pepper, fresh lemon juice, and 1/2 tsp of olive oil per fillet. Place on baking sheet skin side up. Bake in the oven for approximately 12 minutes or until salmon flakes easily with a fork. *If subbing with a different protein, cooking methods, temperatures and times may vary.
6. In a medium bowl, whisk together the remaining olive oil, lemon, and a pinch of black pepper and sea salt.
7. Add the cauliflower rice, red cabbage, sugar snap peas, red bell pepper, red onion, parsley, mint, and feta to the bowl. Mix well until all ingredients are combined.
8. Top bowl with roasted salmon. Optional to add a lemon wedge. Serve immediately or divide evenly into a meal prep container (glass containers work best for salmon). Enjoy!

Nutrition and Macros

2 servings
363 calories per serving
36 g protein
16.6 g carbs
16.2 g fat
5.4 g fiber
8.1 g sugar
Inspired to make this Salmon Cauliflower Tabouleh Bowl? Share it on Instagram for a chance to be featured. Tag @mealplan_app, #MyMPRecipe.