For most of us, packing the same old salad for lunch every week can get a little boring. Mealplan Nutrition Expert Jen Heward's Cranberry Pecan Chicken Salad is a great way to level up your meal prep game. This ultimate superfood salad is made with cranberries, pecans, sautéed chicken breast, and a creamy yogurt, dill, and mustard dressing, and can be prepared in about 15 minutes.

Let's talk about cranberries. These little red gems are rarely eaten raw due to their super tart flavor profile, however, when reduced with sugar into a relish, or in this case, dried, they add a sweet and tart zing to any dish. Dried cranberries are high in antioxidants and bioactive compounds, which have been found to boost your metabolism, immune system and heart health. Cranberries are also known to support the urinary tract.

What about pecans? These rich and earthy nuts also contain free-radical-fighting antioxidants, and are a great resource of thiamin, zinc and copper. Though pecans have a naturally sweet taste, they are very low in sugar.

At 43 grams of protein and 12 grams of carbs, this Cranberry Pecan Chicken Salad is a fantastic, low-carb and low-sugar meal, with a perfect balance of sweetness, creaminess and crunch.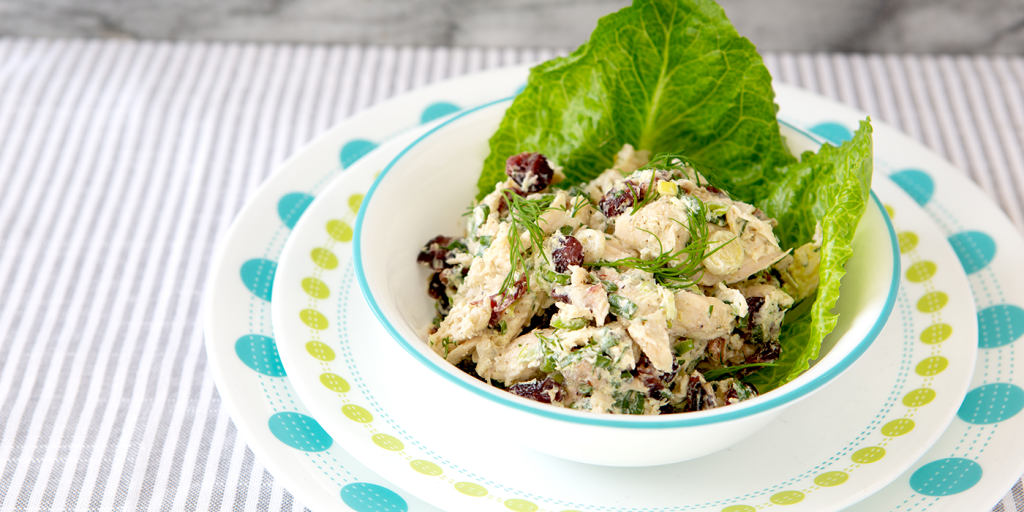 Cranberry Pecan Chicken Salad
Ingredients
4 oz chicken breasts
1/2 cup vegetable broth
1 tsp dijon mustard
4 tbsp greek yogurt, plan 2%
2 tbsp dried cranberries
2 tbsp chopped pecans
1/4 cup green onion
1 tsp fresh dill
1 tsp garlic powder
1 tsp black pepper
4 romaine lettuce leaves

Directions
1. Spray a medium pan on medium heat with cooking spray and add sliced chicken breast. Top with black pepper.
2. Next add the vegetable broth to the pan. Cook until the chicken can be easily pulled apart about 9 to 11 minutes. Turn off the heat and shred the chicken into a medium bowl.
3. In a small bowl, mix together the mustard, plain greek yogurt, dill, garlic powder, and green onion.
4. Add romaine lettuce leaves to a medium bowl, along with the shredded chicken, pecans, and dried cranberries. Top with greek yogurt-mustard dressing. Best served chilled. Enjoy!
Nutrition Info

Makes 1 serving

290 calories per serving
43 grams protein
2 grams fiber
12 grams carbs
7 grams fat
6 grams sugar

Inspired to make this Cranberry Pecan Chicken Salad? Share it on Instagram for a chance to be featured. Tag @mealplan_app, #MyMPRecipe.