Whether you want to lose fat, gain muscle, or maintain your weight, these Fitplan recipes will give you the boost you need on your journey to a transformed and shredded body.


1-Day Recipe Plan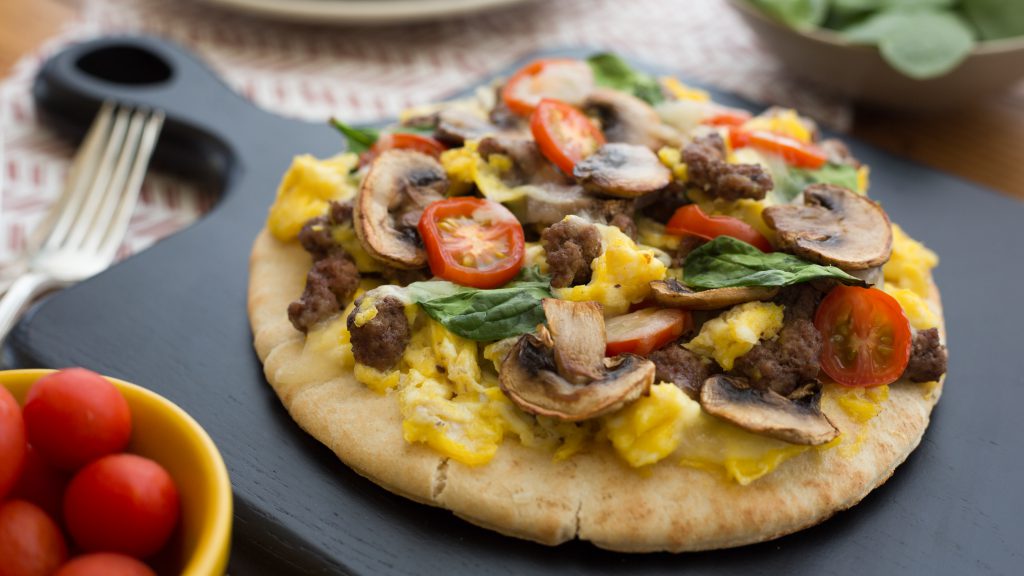 Breakfast – Breakfast Protein Pizza by Cam Speck
Ingredients
1 pita
85g/3oz lean ground beef, grass-fed
2 eggs (scrambled)
100g/3 ½ oz tomatoes (chopped)
18g/0.6 oz mushrooms
15g/½ oz spinach leaves
2 tbsp mozzarella cheese
For cooking: Cooking oil spray (olive/avocado/ coconut)
Cooking Instructions:
Heat a medium skillet on medium heat.
Spray the skillet with cooking oil and add grass-fed beef. Break the beef apart using a spatula.
Cook and mix the beef for 3 to 4 minutes.
Crack the eggs over the beef, mix and scramble until the beef has browned and the eggs are cooked through. Set aside.
To assemble the pizza:
Preheat oven to 350°F/175°C/Gas 4.
Place one sprouted-grain pita in the center of a pizza/baking pan.
Spread the egg-beef scramble over the pita. Add tomatoes, mushrooms, spinach, and mozzarella cheese.
Bake in the oven for about 5 minutes. Remove, and slice into 4 pieces (4 pieces equates to 1 serving). Optional to top with your favorite hot sauce. Enjoy!
Nutrition (1 serving)

Calories 457
Protein 38g
Carbs 20g
Fat 24.5g
Fiber 3.5g
Sugar 3g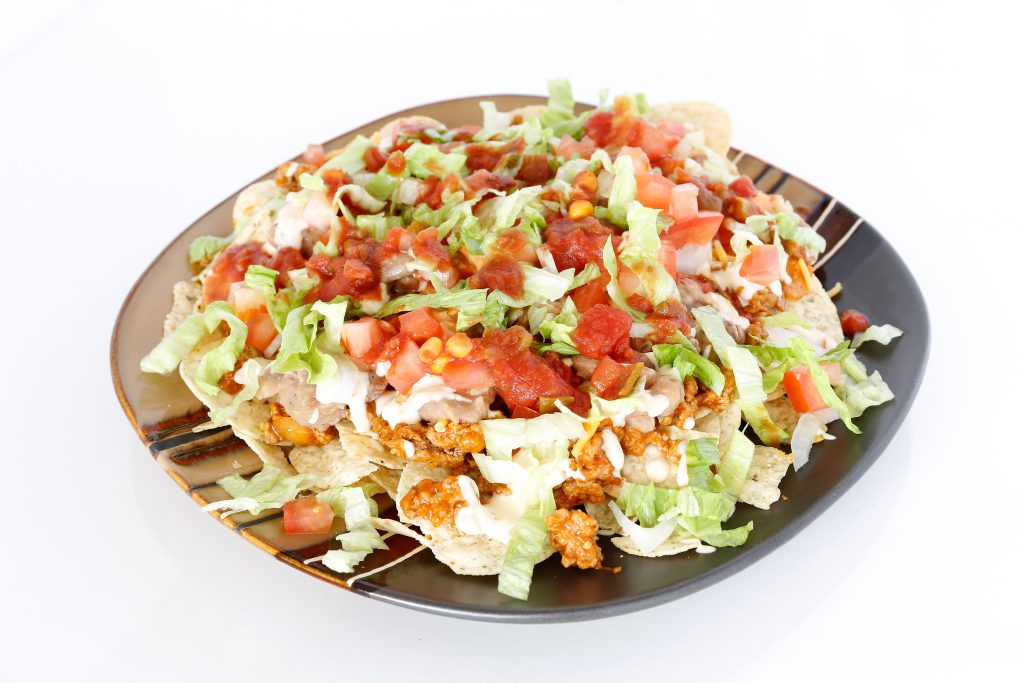 Lunch – Keto Taco Salad by Michelle Lewin
Ingredients
2 tbsp coconut oil
340g/12oz lean ground turkey
¼ tsp dried oregano
¼ tsp paprika
¼ tsp ground cumin
½ tsp cup water
210g/7.3 oz romaine lettuce (chopped into bite-sized pieces)
1 avocado (sliced)
⅓ cup pico de gallo
40g/⅓ oz mozzarella cheese
25g/0.8 oz sour cream
3 tbsp fresh lime juice

Cooking Instructions
Heat coconut oil in a pan on medium and add the turkey. Stir and cook until brown, approximately 8 to 10 minutes. Add the garlic powder, dried oregano, paprika, and cumin. Add water and let everything simmer for 5 minutes.
Add lettuce to a large bowl along with the avocado, pico de gallo, and cheese. Add in the cooked turkey and top with sour cream and fresh lime juice. Enjoy!
Nutrition (1 serving)

Calories 390
Protein 28g
Carbs 11g
Fat 28g
Fiber 5g
Sugar 3g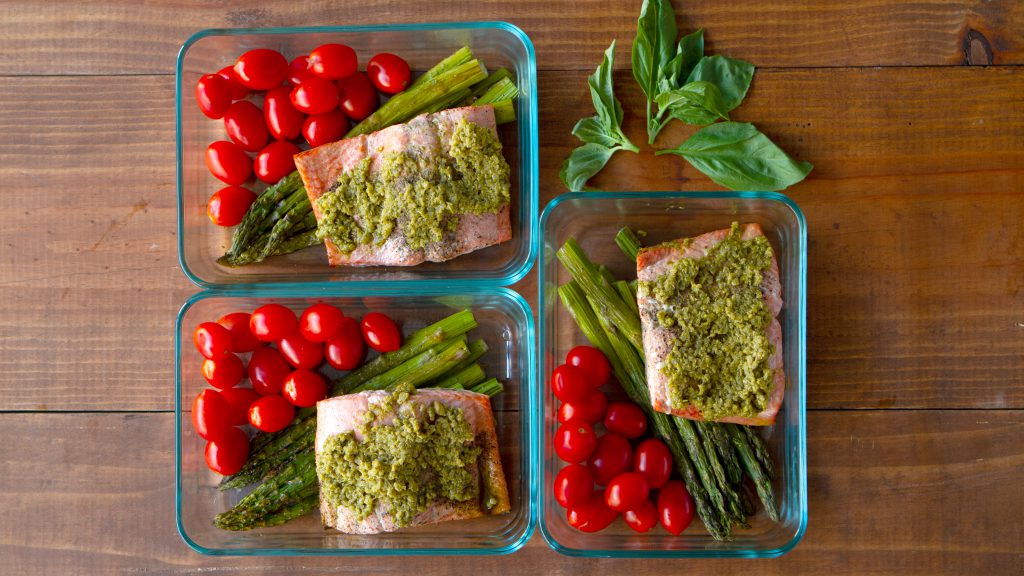 Dinner – Salmon Dinner Combo by Lauren Findley
Ingredients
Cooking oil spray (olive/ avocado/ coconut)
150g/5 oz wild salmon fillets
8 asparagus (ends trimmed)
¼ tsp sea salt (divided use)
140g/4.9 oz cherry tomatoes
2 tbsp basil pesto
¼ lemon
Cooking Instructions

To prepare asparagus:
Preheat oven to 425°F/220°C/Gas 7. Line a baking sheet with parchment paper.
Arrange asparagus in a single layer on the baking sheet; coat with cooking oil spray and season with salt and pepper.
Bake for 12 to 15 minutes. Remove from oven; set aside to cool.
To prepare salmon:
Heat a skillet over medium heat; Coat with cooking oil spray.
Arrange salmon in the pan, skin side down; season with salt and pepper. Cover and cook for 7 to 10 minutes (depending on the thickness of the fillet) or until fish flakes easily with a fork. Remove from pan; set aside to cool.
When cool, top the salmon with pesto.
To complete meal prep:
Place salmon, asparagus, raw cherry tomatoes, and a lemon wedge in a meal prep container. Squeeze lemon over asparagus and fish (if desired) before serving.
Nutrition (1 serving)

Calories 451
Protein 42g
Carbs 21g
Fat 23g
Fiber 6g
Sugar 10g
Inspired to make these Fitplan recipes? Share them on Instagram and tag @fitplan_app with the hashtag #ieatwithfitplan