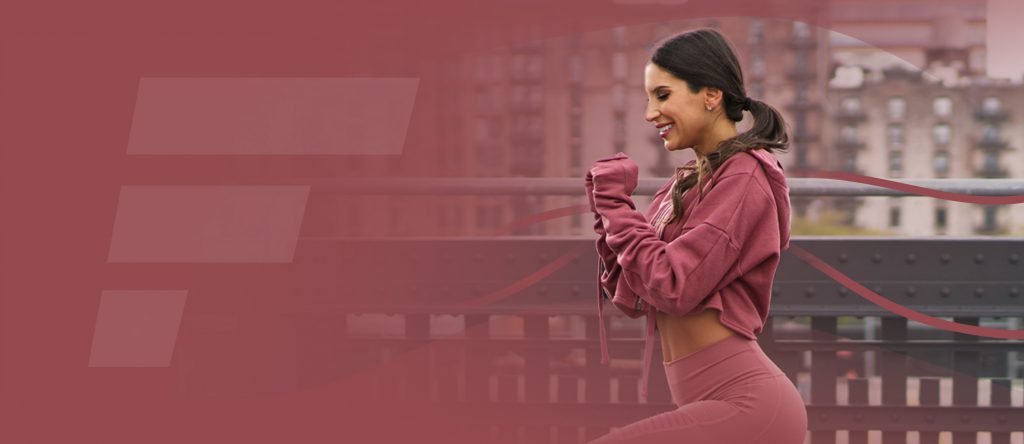 Overcoming adversity and self-doubt with Jen Selter.

Fitplan trainer Jen Selter was held down by self-doubt and anxiety, a result of bullying she had faced since middle school. When she discovered that working out helped her feel better, she shifted her focus and quickly became a pioneer in the fitness industry. Despite growing a massive social media following and achieving rapid success, the issues only got worse and the insecurity returned stronger than ever.
It wasn't until she developed the proper mindset and approach that she was able to overcome her toughest adversity. Since then, she has utilized fitness to achieve optimal mental health and empower others to do the same. Over time, she turned her adversity into good for many others facing the same issues. We sat down with Jen to discuss her story and how she continues to overcome and keep moving forward.

Fitplan: Have you ever experienced self-doubt that stopped you from achieving your fitness goals? If so, what was it and how did you handle it?

Jen: When I first started my fitness journey, I was a bit lost and suffering from bad anxiety. I found that a good workout really helped me feel better, so my main motivation was my mental health. The results were just a bonus!
This mindset made it easy to never stop just because I wasn't seeing results. I also never compare myself to others and instead focus on being the best version of myself. From an early age I realized that everyone is different and you will never look exactly like someone, so why put that pressure on yourself?
Fitplan: How do you continue to positively overcome any insecurities and self-doubt physically, mentally, and emotionally?

Jen: The older I get, the more I learn about myself and the more I understand that everyday is different. Some days I wake up feeling like I can conquer the world and some days I am just not feeling it. It is so important to be mindful of your thinking and shift those negative thoughts to the positives.
A few tips that help help me do that:
Acknowledging and learning to confront my feelings instead of avoiding them. Feel the feels.
Positive self talk
Practicing self awareness and self love
Reflecting on the past and all of my achievements
Writing down my thoughts, positive and negative
Fitplan: What negative effects does self-doubt have on a person?
Jen: Self-doubt prevents us from experiencing personal growth. But if you truly understand that nobody is perfect and learn from your mistakes, you can overcome it and it will become easier each time. We experience our greatest moments of personal growth when we let go of the fear of failure and stop worrying what other people might think about us.
Fitplan: Can you discuss the positive effects you begin to see once you start believing in yourself and stop listening to outside noise.
Jen: You have to believe in yourself before anybody else can believe in you. For me, I remove the phrase "I can't" from my vocabulary. That phrase does nothing but harm and is the beginning of many self-limiting beliefs, setting you up for failure. Remember, anything is possible!
Fitplan: What tips or advice do you have for someone who has insecurities in the gym or doubts themself and their capabilities?
Jen: It's so important to learn to enjoy your sweat without the stress and worry about what others are thinking. Just worry about yourself and try these tips to help you out.
Find a gym partner
Follow a program and write down your workout before you go to the gym
Commit to being consistent
Don't go to the gym during rush hour
Blast music that pumps you up and motivates you!
And as always, remember to be patient with your progress and proud of yourself every step of the way. You are doing the best you can and that is what matters!

Inspired by Jen Selter's story? Train with her on @fitplan_app