New Fitplan Trainer Sami Clarke is a Colombian-born, LA-based model and health, wellness and fitness coach who is dedicated to guiding people toward becoming their best selves.
Her first Fitplan, Body Glow, is all about developing long and lean muscles with minimal equipment, so you can work out anywhere on your own schedule.
Sami believes in a holistic approach to wellness and connects her fitness routine with clean eating and the nourishment of her mind, body and soul.

"When you look good, you feel good, and when you feel good, you are really powerful," she says.

We sat down with Sami to talk about her daily routine and the practices she relies on to maintain peak performance.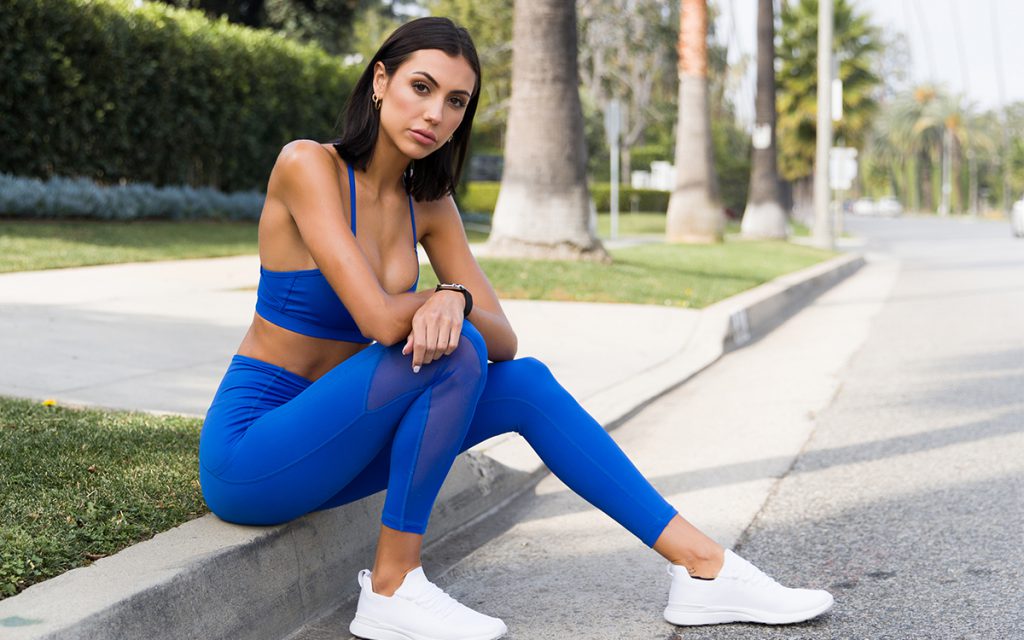 Sticking to a Morning Ritual

Sami is a self proclaimed morning person and wakes up around 6 or 6:30 a.m. with one strict rule: no looking at her phone. Instead, she swears by drinking a full glass of lemon water right when she wakes up to stay hydrated and kickstart her metabolism. After finishing her water, Sami takes 10 minutes to play some music, light a candle and meditate to really set her intentions for the day and practice mindfulness.

"After I am finished meditating, I will finally check my phone and start prepping my green juice to get my day moving," she describes.

Sami swears by this everyday green juice that she says has been a total game-changer.

"It boosts my immune system, gives me energy, rejuvenates my skin. I'm honestly obsessed."

Ingredients:
Handful of frozen kale
½ squeezed lemon
2 celery sticks
Palm-full of cilantro
½ of a frozen banana
2-3 cups of water

Daily Journaling

Sami also loves to journal and tries to fit it in her morning routine as much as possible. Journaling is simply writing down your thoughts and feelings to understand them more clearly. When Sami journals, she plays music that helps her focus and does a three page "mind-dump," which means she writes whatever comes to mind without judging her thoughts or feelings.

After that, she prioritizes her business and personal to-do lists. Journaling can do way more for you than just prioritize your day, it also helps you record memories and find self-expression. Journaling is believed to reduce stress, improve immunity, boost mood, keep memory sharp and strengthen emotional intelligence.

"I usually just write something funny that comes to my mind, my priorities for the day, or even just how I am feeling," says Sami.

Commitment and Consistency

Sami attributes her success to finally listening to herself and what her body needs. She says that when she started prioritizing hydration, getting more sleep, not drinking as much alcohol, and listening to her body when it wants to rest, she noticed the most dramatic transformation both internally and externally. She also swears by consistency.

"My number one health tip I tell people is always consistency. I could tell you to drink more water, eat healthy or work out every day, but if you aren't consistent it won't matter."

Meal Planning
Sami plans out her meals for the entire week to help her stay on track with her healthy eating habits. She is also a firm believer that healthy does not mean tasteless, and says the meals she cooks up are absolutely mouth-watering.

"If you have a sweet tooth, make a healthy smoothie that tastes like a treat! I make chocolate protein shakes all the time when I just can't kick my sweet tooth."

Try this Chocolate Banana Protein Shake from Mealplan App.

Ingredients:
12 oz. water
2 scoops of chocolate protein powder
1 banana
1 cup of spinach leaves
1 tbsp peanut butter (natural)
Calories: 437

Morning Workouts
Sami loves to get her sweat on in the a.m. She works out 45 minutes a day approximately five days per week.
She swears by HIIT style training, but will switch up her main workout routine with group classes like reformer pilates, yoga or other boutique fitness studios. She does this so she doesn't get bored or hit a plateau in her fitness journey.

Sami is pumped to give the community the exact training methods that helped her create the long and lean body type she desired. Her Body Glow Fitplan will leave you feeling your happiest and healthiest, and strong and toned in all the right areas. It is designed for high intensity and minimal equipment so you can get the results you want all from the comfort of your home. Body Glow by Sami Clarke is 25-minute workouts, 5 days a week for 8 weeks. Ready to get started? Work out with Sami FREE for 7 days.