Here's our Gluten-Free Banana Pancake recipe for a quick-and-easy post-workout breakfast. Made with wholesome ingredients including organic bananas, gluten-free oats, and raw honey these healthy pancakes take less than 20 minutes to whip up and can be easily meal prepped and reheated to have throughout the week. Serve up these guilt-free, golden-brown pancakes with a fresh, homemade blueberry syrup and a side of scrambled eggs for the ultimate brunch meal that you may just end up craving for dinner!

Why we love homemade banana pancakes?

No hidden ingredients! Preparing your own pancakes using what we like to call "real food" or quality ingredients including organic bananas, coconut oil, and organic oats means you know exactly what's going into your body. Boxed store-bought pancake mix often contains refined sugar, heavily processed oils (partially hydrogenated soybean oil/cottonseed oil, and preservatives to prolong shelf life. As for syrups, a homemade blueberry syrup with fresh, organic blueberries is naturally sweetened unlike store-bought versions which often contain added refined sugar.

For an ideal post-workout breakfast that supports workout recovery, Melissa likes to add a side of scrambled eggs for additional protein.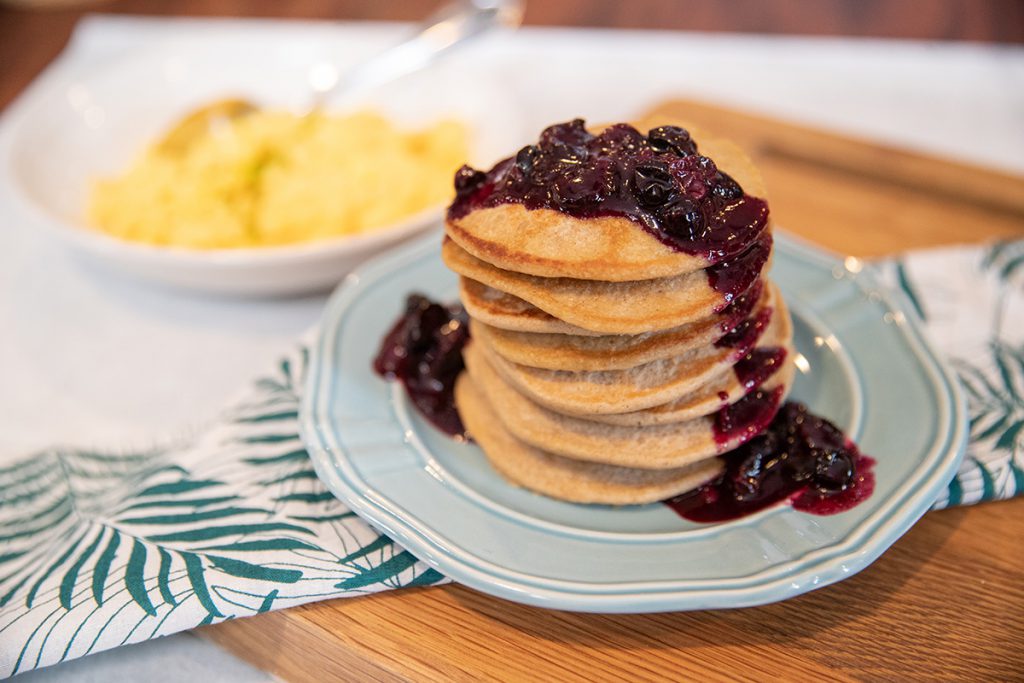 Gluten-Free Banana Pancakes With Scrambled Eggs

Ingredients (Serves 4)

Pancakes
2 cups quick oats, gluten-free
1 ¼ cups almond milk (unsweetened)
1 ½ tsp baking powder
¾ cup water
1 banana
½ tsp ground cinnamon
¼ tsp sea salt
1 tsp vanilla extract
2 tsp coconut oil
1 egg
Blueberry Syrup
⅔ cup blueberries
1 ½ tsp coconut oil
Scrambled Eggs
Optional
Directions

Blueberry Syrup

1. Add blueberries and coconut oil to a medium saucepan. Stir and cook for about 5 minutes on medium heat. Turn off the heat and set aside to drizzle over pancakes.

Pancakes and Eggs

2. For the pancakes: Add oats, baking powder, cinnamon, sea salt, banana, vanilla, almond milk, and eggs to a blender. Blend until smooth.

3. For the scrambled eggs: In a small bowl, crack eggs and whisk together. In a small pan on medium-low heat, spray with cooking oil. Add whisked eggs and lightly season with black pepper or sea salt. Stir, scramble, and cook eggs for about 3 to 4 minutes. Set aside to serve with pancakes.

4. Heat a griddle or a large saute pan over medium heat and melt a teaspoon of coconut oil. Once hot, pour or scoop the batter onto the griddle using approximately ¼ cup of the batter for each pancake. Brown the pancakes on both sides (about 2 to 3 minutes per side). Repeat for the remaining batter. If the batter becomes too thick to pour, add a Tablespoon or two of almond milk to thin the batter.

5. Once cooked, transfer the scrambled eggs to a plate along with the pancakes. Top pancakes with the prepared blueberry syrup (optional to drizzle with raw honey). Enjoy!
Nutrition Per Serving
Calories 327
Protein 16g
Carbohydrate 28g
Fat 16g
Fiber 3g
Sugar 11g
Kreider, R. B., Wilborn, C. D., Taylor, L., Campbell, B., Almada, A. L., Collins, R., … & Kerksick, C. M. (2010). ISSN exercise & sport nutrition review: research & recommendations. Journal of the international society of sports nutrition, 7(1), 7.