This delicious recipe by Mealplan Nutrition Expert Michelle Lewin uses zucchini instead of pasta noodles, making it a great choice for those on a low-carb regimen, or anyone looking to incorporate more veggies into their diet.

Zucchini is a versatile summer squash packed with nutrients like Vitamin A, manganese, folate, phosphorus and cancer-fighting carotenoids. Using this summer veg (technically a fruit —call the produce police!) instead of traditional pasta makes each serving 17 grams of carbohydrates, as compared to the average 40 grams in a big bowl of spaghetti.

If you've ever spiralized zucchini, you know it can be a lot of fun —and a little bit of effort. If you're short on time, most grocery stores now sell pre-spiralized zucchini for your convenience.

The avocado pesto is not only creamy and hearty, but a powerhouse of nutrients. Avocados contain fiber, folate, and tons of vitamins. They're also high in monounsaturated fatty acids, aka healthy fats, which are derived from plants and may help fight against heart disease, diabetes and cancer.

This recipe also calls for shrimp, which is considered a low-calorie, low-carb protein. Shrimp is rich in iodine, which supports your thyroid, and is also high in omega-3 fatty acids. If you're not a fan of shrimp, feel free to substitute with another lean protein like wild salmon or chicken breast.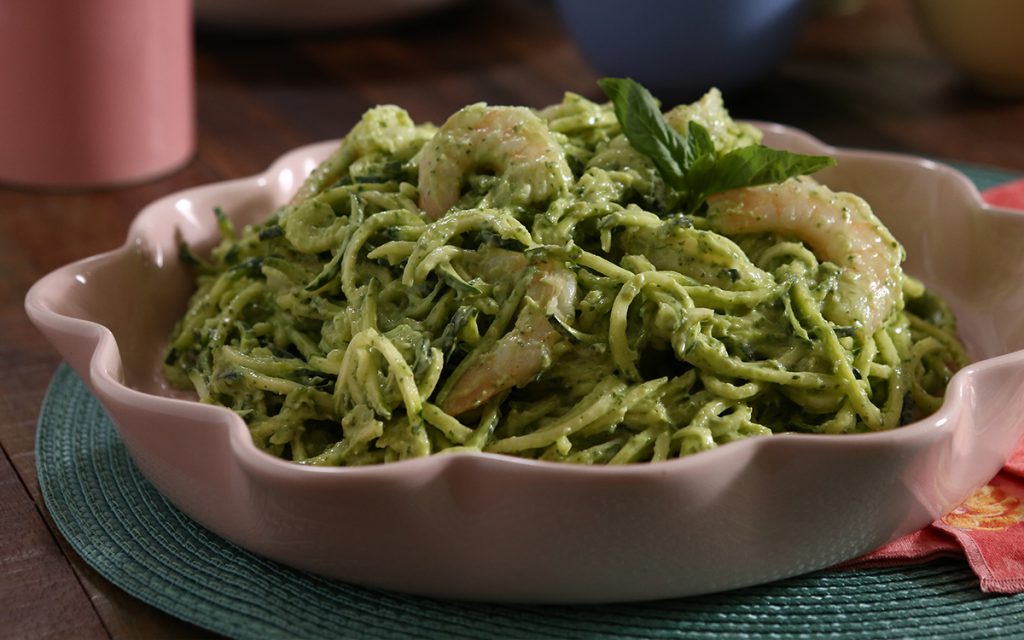 Low-Carb Noodles with Creamy Avocado Pesto and Shrimp

Ingredients
3 zucchini or 1lb pre-spiralized zucchini
2 avocado
1 cup fresh basil
3 garlic cloves
2 tbsp lemon juice
5 tsp olive oil
1/4 cup pine nuts
2 cups cooked shrimp
1 tsp parmesan cheese
1 pinch salt
Black pepper to taste
Directions
Watch Michelle's mini tutorial above.
1. Spiralize zucchini using a spiralizer and set aside. Skip this step if you bought pre-spiralized zucchini.
2. Create the creamy pesto sauce by blending the rest of the ingredients in a food processor.
3. Pour the sauce over the zucchini noodles, gently toss and top with cooked shrimp.
4. Season with cracked pepper and parmesan cheese.

Nutrition
2 servings

540 calories per serving
24 grams protein
17 grams carbs
46 grams fat
10 grams fiber
1 gram sugar
Inspired to make these Low-Carb Noodles with Creamy Avocado Pesto? Share them on Instagram for a chance to be featured. Tag @mealplan_app and #MyMPRecipe.