These Carrot Cake Bliss Balls taste like a cheat, but are actually filled with fiber and naturally sweetened with dates and honey.
Carrots are a great source of beta carotene, which is an antioxidant that converts to vitamin A. Beta carotene has been shown to promote skin and lung health, and might play a role in preventing age-related macular degeneration. Carrots are also great for weight loss and cholesterol management.

Dates are said to promote brain health and are the main source of sweetness in this healthy dessert, and are also responsible for its candy-like texture. Walnuts are a plant-based source of omega-3s, and balance the sweetness in these Carrot Cake Bliss Balls with an earthy flavor and satisfying crunch.

With just three steps and no cooking required, these Carrot Cake Bliss Balls are incredibly easy to make. Add them to your weekly meal prep for a guilt-free dessert or a perfect pre-workout snack. Store them in the fridge or freezer and you're ready to go.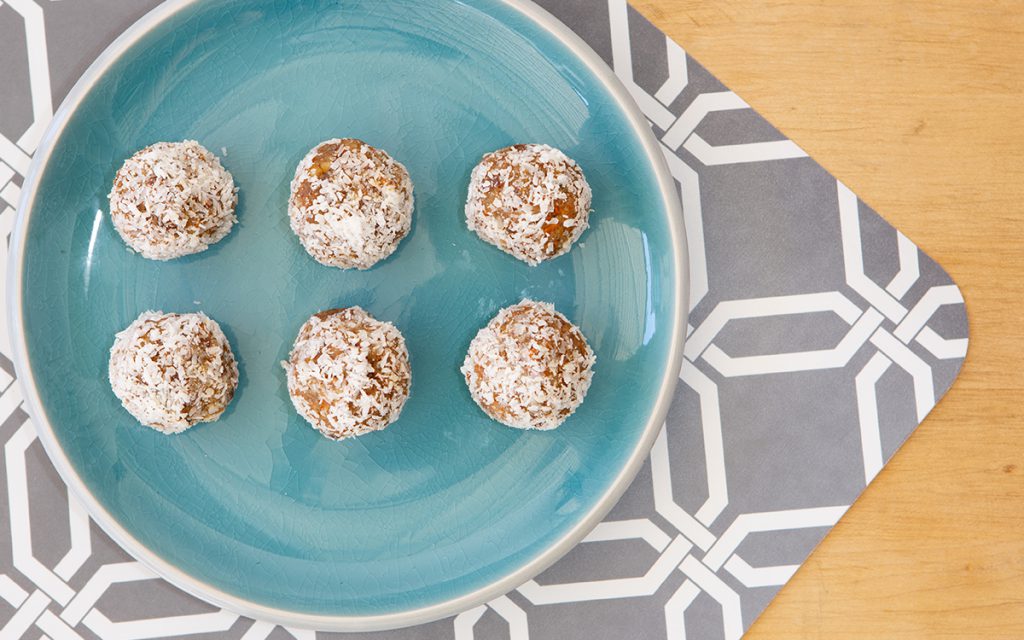 Carrot Cake Bliss Balls
Ingredients
1 cup walnuts
1/2 tsp ground cinnamon
1/2 tsp sea salt
12 pitted medjool dates
1 cup shredded carrots
1/2 cup shredded coconut

Directions
Watch Amanda's mini tutorial above.
1. Place walnuts, cinnamon, salt, dates, carrots, and honey in a food processor; pulse until well combined.
2. Shape into 1-inch balls. Roll each ball in coconut.
3. Store in the fridge until ready to serve.
Nutrition Info
Makes 6 servings

277 calories per serving
4 grams protein
42 grams carbs
13 grams fat
5 grams fiber
35 grams sugar
Inspired to make this Carrot Cake Bliss Balls? Share them on Instagram for a chance to be featured. Tag @mealplan_app, #MyMPRecipe.