Michelle Lewin's No-Bake Vegan Banana Cream Pie is completely plant-based, raw and paleo. The best part? It doesn't require an oven!

If you're thinking, "this sounds amazing, but I'll save it for a cheat day" you might want to hold that thought. This dessert is part of Michelle Lewin's nutrition program on Mealplan, which means it's part of a healthy, balanced diet designed to help you reach your goals.

Packed with almonds, dates and bananas, this version of banana cream pie serves up essential nutrients like protein, magnesium, vitamin B, vitamin C and potassium, which can't be said for your everyday banana cream pie.

With its almond-based crust, this easy-to-make dessert is sweetened with medjool dates, coconut milk, pure maple syrup, vanilla extract and bananas, of course. No processed sugars to be found.

Each batch creates nine servings, making it the perfect treat to bring to the office or your next gathering.

Want more clean recipes like this? Get them on Mealplan.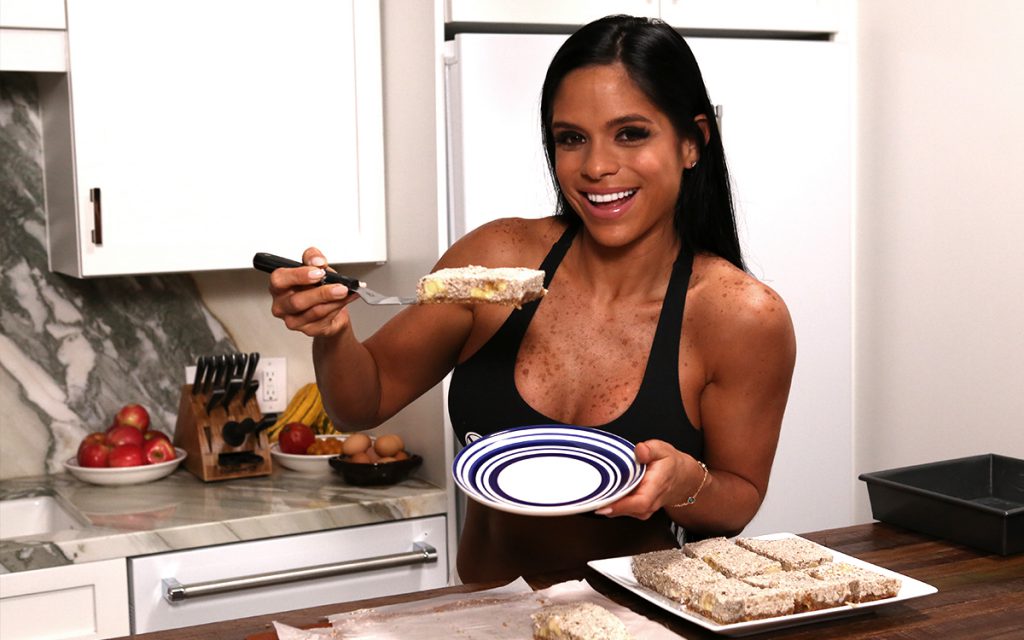 Michelle Lewin's No-Bake Vegan Banana Cream Pie
Ingredients
Almond Crust

8 pitted medjool dates
3 tbsp avocado oil
1/4 tsp ground cinnamon
1/2 tsp vanilla extract
1 1/2 cup almonds
1/4 tsp sea salt

Pie Filling
4 peeled bananas
28oz refrigerated full-fat coconut milk
1/4 cup pure maple syrup
1.5 tsp vanilla extract

Directions
Watch the video above for Michelle Lewin's mini tutorial.
1. Prepare the Almond Crust: Add all the ingredients for the crust to a food processor and process until the almonds are finely chopped but still chunky, and a sticky mixture is formed.
2. Press the crust into a 8×8 inch (20 x 20cm) pan lined with parchment paper, creating an even layer, then refrigerate until it's ready to use.
3. To prepare the filling: Open the cans of refrigerated coconut milk and scoop the thick coconut cream into a mixing bowl or a stand mixer with the whisk attachment. Leave out the clear water to use in a different recipe.
4. Add the pure maple syrup, vanilla extract, sea salt and three-quarters of the bananas (keep the remaining bananas for topping). Use a hand mixer to beat the ingredients until they are thick and fluffy. The mixture doesn't have to have the same consistency as regular homemade whipping cream as long as it's thick.
5. Pour one-quarter of the coconut whipped cream onto the prepared crust and spread it into an even layer. Layer the sliced bananas on top, then add the remaining coconut whipped cream. Use a spatula to create an even spread on top.
6. Cover the pan with plastic wrap and refrigerate for 2 hours. When it's ready to serve, slice into nine servings and enjoy!
Inspired to make this No-Bake Vegan Banana Cream Pie ? Share it on Instagram for a chance to be featured. Tag @mealplan_app and #MyMPRecipe.