This vegetarian salad is made with bold flavors like cumin, parsley, lemon, and cayenne pepper making it the perfect lunch or pre-workout meal to fuel you for the afternoon!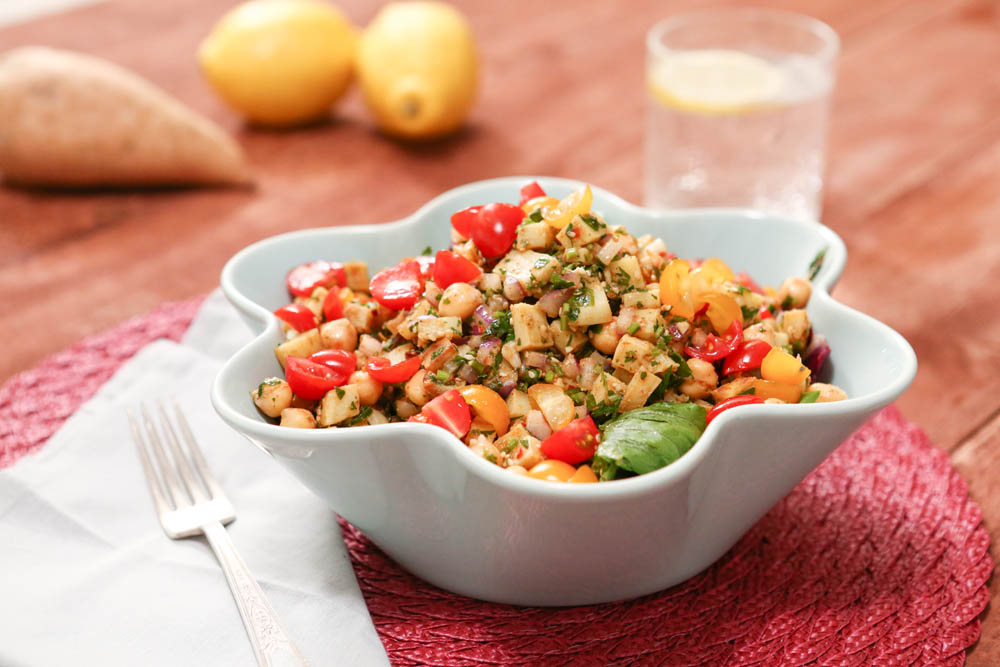 Sweet Potato + Chickpea Salad
Ingredients
½ lemon
1 tsp ground coriander
¼ tsp ground pepper
1 tsp red pepper flakes
2 tbsp sesame seeds
2 tsp ground cumin
1 can chickpeas
1 cup parsley
½ red onion
½ cup cherry tomatoes
1 sweet potato or yam
2 tbsp avocado oil
2 cloves garlic
Black pepper
Sea salt
Cooking Instructions
Heat a pan over medium heat and add oil. Cook diced sweet potatoes until lightly browned on all sides and cooked through. Add salt, pepper to taste, and half of the cumin powder.
In a large bowl combine chickpeas, garlic, onion, and parsley.
To the same large bowl add the sweet potato with the lemon juice and zest, coriander, the rest of the cumin powder, red pepper flakes, cayenne pepper, and sesame seeds.
Toss to combine, and add additional oil (up to one tablespoon – optional). Enjoy!
Nutrition (1 serving)

Calories 332
Protein 12.7g
Carbs 42.7g
Fat 11.6g
Fiber 11.9g
Sugar 4.3g
Inspired to make this Sweet Potato + Chickpea Salad? Share it on Instagram and tag @fitplan_app with the hashtag #ieatwithfitplan.