Flank steak is one of the healthiest cuts of beef you can eat from a nutritional standpoint. It has fewer calories, less saturated fat and is packed with protein compared to other cuts.

If you're looking for the perfect post-workout meal or a low-carb dinner recipe then look no further. Give this gluten-free Stuffed Flank Steak a try!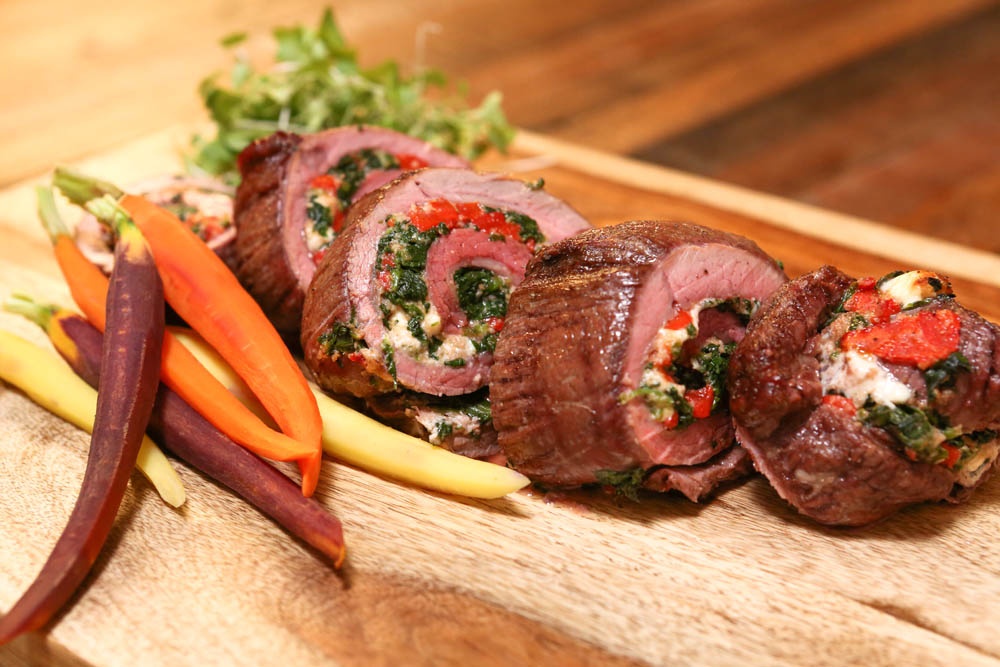 Stuffed Flank Steak
Ingredients
2 lbs flank steak
¾ tsp garlic salt
¾ tsp black pepper
7oz roasted red peppers
1 package of frozen spinach
½ cup blue cheese
2 tbsp bread crumbs
¼ tsp garlic salt
1 egg
1 tbsp olive oil
Cooking Instructions
Preheat the oven to 425°F / 220°C / Gas 7
Lay the steak on the work surface. Holding a sharp knife parallel to the work surface and starting at a long side, slice flank steak in half to opposite long side, without cutting all the way through. Open up the steak like a book and flatten slightly to an even thickness.
To make the filling, squeeze the liquid from the spinach (discard the liquid) and in a medium bowl combine the spinach, cheese, peppers, bread crumbs, egg yolk, garlic salt and pepper.
Season the steak with garlic salt and pepper, and then press the filling onto the steak – leaving a 1-inch (2.5cm) border on all sides.
Roll up the steak to enclose the filling, beginning on a short side (the grain of the meat will be running from left to right). Tuck any loose filling back into the ends.
Tie the steak with cotton twine at 2-inch (5 cm) intervals to secure. Rub the outside with oil, then sprinkle with remaining garlic salt and pepper.
Roast in the oven for 35 minutes and then increase the heat to broil (or grill in UK/AUS) and broil for 10 minutes, turning once.
Let the meat rest for 15 minutes.
Remove the twine, slice and serve!
Nutrition (1 serving)

Calories 406
Protein 24.4g
Carbs 19.8g
Fat 23.7g
Fiber 2.7g
Sugar 6g
Inspired to make our Stuffed Flank Steak? Share it on Instagram and tag @fitplan_app with the hashtag #ieatwithfitplan