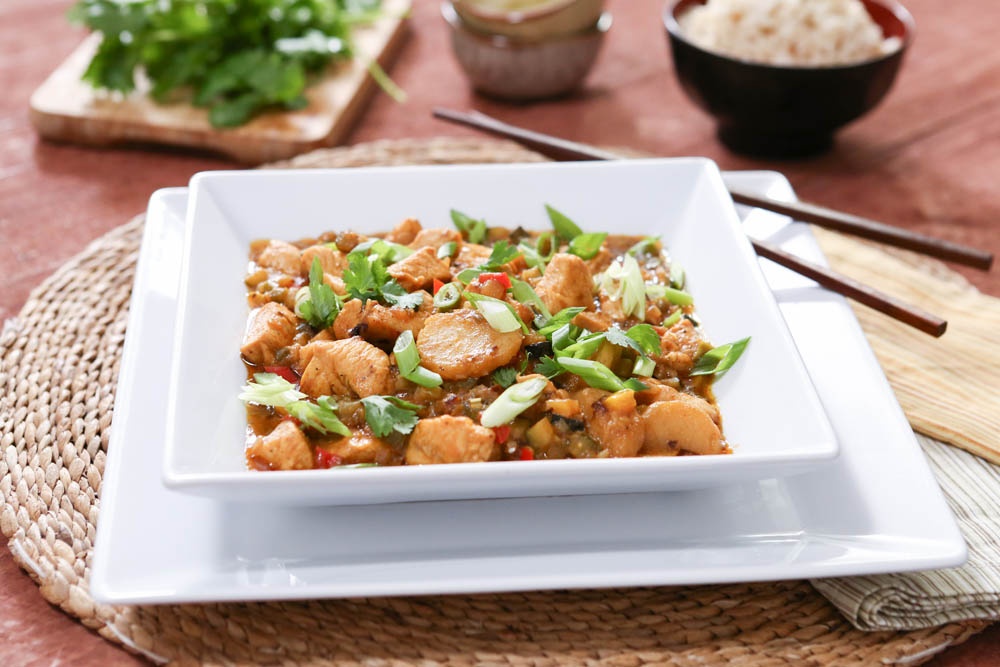 Full of flavor and simple enough for weeknight dinners, this curry chicken dish from Michelle Lewin is full of protein and only takes 25 minutes of total prep!

Thai Green Curry Chicken
Ingredients
Cooking spray (olive, avocado, coconut)
1.3 lb chicken breasts (boneless and skinless)
Sea Salt
Black Pepper
60g / 2.1 oz green curry paste
75g /2.6 oz onions (chopped)
150g / 5.3 oz zucchini (courgettes)
180g / 6.3 oz bell peppers
70g / 2.4 water chestnuts (cut into slices)
1 tbsp sriracha
1 tbsp fish sauce
1 tbsp lemongrass paste
240ml /8.3 fl oz coconut milk (unsweetened)
½ tsp water
1 tsp stevia sweetener
Cilantro (Coriander) chopped
Cooking Instructions
1. Season chicken cubes with salt and pepper.
2. In a wok or large skillet over high heat, cook chicken with cooking spray until golden brown. Set aside.
3. In the same wok, cook the curry paste, onions, zucchini, peppers and water chestnuts with some olive oil. Add the Sriracha, ginger, fish sauce, lemongrass and coconut milk.
4. Let it cook for 3 or 4 minutes then add the chicken and chicken broth.
5. Add the fresh coriander and chives, then serve immediately. Enjoy!
Nutrition (1 serving)

Calories 546
Protein 74g
Carbs 41g
Fat 14g
Fiber 3g
Sugar 16g
Inspired to make Thai Green Curry Chicken? Share it on Instagram and tag @fitplan_app with the hashtag #ieatwithfitplan