Meal prep a week's worth of lunch in minutes with Mealplan Expert Amanda Meixner's Tex Mex Salad Jar recipe. Packed with hearty turkey, corn, crunchy red peppers and red onion, these salad jars are bursting with flavor and nutrition.

Amanda is known on Instagram for her clever salad jar recipes, which she creates specifically for simple, clean meal prep. At 34 grams of protein per serving, this Tex Mex Salad Jar includes lean, ground turkey browned with zesty Mexican seasoning, along with crispy mixed greens and bright cherry tomatoes dressed with balsamic vinegar. Not only are these colorful salad jars delicious and easy to make, they're also pretty enough to post on Instagram.

The recipe below makes one salad jar—double or triple to meal prep for several days, or subscribe to Mealplan to calculate. Be sure to pack each salad jar with the dressing and heavy ingredients on the bottom and greens on top, to keep your grab-and-go lunches fresh all week.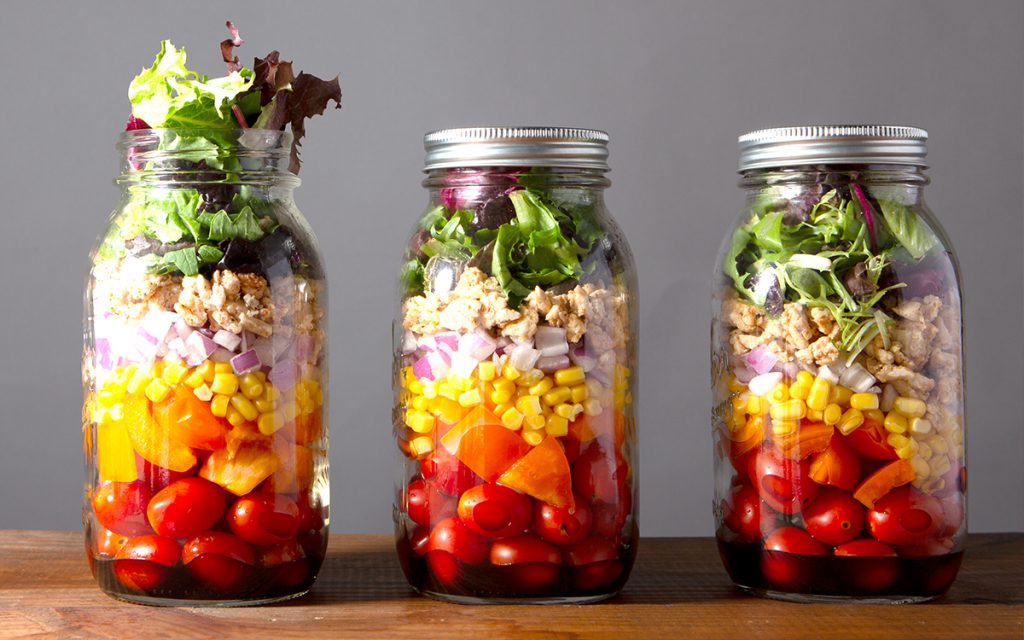 Amanda Meixner's Tex Mex Salad Jar
Ingredients

Cooking spray
4 oz lean ground turkey
1 tsp mexican seasoning
2 tbsp balsamic vinegar
1/2 cup cherry tomatoes
1/2 orange bell pepper, chopped
1/2 cup frozen corn
1/4 cup red onion, chopped
2 cups mixed greens

Directions
To prepare the turkey:
1. Preheat a skillet over medium-high heat; coat with cooking oil spray.
2. Add turkey to pan; stir to break up meat into small pieces. Add seasoning mix; stir. Cook until turkey is no longer pink, about 10 minutes. Remove from heat; set aside to cool.

To prepare the salad jar:
1. Pour balsamic vinegar into a 32 oz. jar so that it coats the bottom.
2. Layer tomatoes, bell pepper, corn, red onion, and cooked turkey. If making more than one salad jar, divide ingredients evenly between jars.
3. Top with greens, packing tightly if needed. Seal jar with a lid. Shake well before serving.

Nutrition Info
1 serving
287 calories per serving
34 grams protein
35 grams carbs
6 grams fiber
3 grams fat
16 grams sugar
Inspired to make this Tex Mel Salad Jar? Share it on Instagram for a chance to be featured. Tag @mealplan_app, #MyMPRecipe.