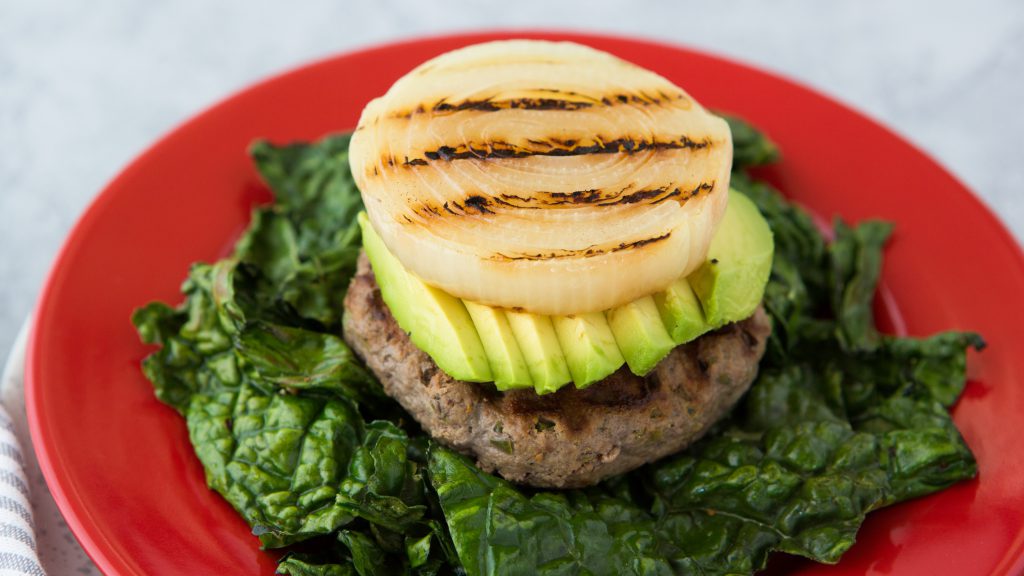 Savory bison patties get a fiery kick from chopped jalapeño in this delicious burger recipe topped with creamy avocado and a thick slice of grilled onion.

Spicy Bison Burger
Ingredients
170g / 6oz lean ground bison meat
1½ tsp jalapeno (chopped)
1 dash sea salt
1 dash black pepper
½ onion (sliced thick)
½ avocado (sliced)
30g / 1.1 oz kale
Cooking Instructions
1. In a small bowl, mix bison, jalapeño, salt, and pepper. Shape into a patty. Set aside.
2. Preheat grill or grill pan over medium-high heat.
3. Spray onion slice with cooking oil spray; place on grill. Cook 1 to minutes, or until grill marks form. Flip and cook 1 to 2 minutes more. Set aside.
3. Place bison patty on the grill and cook for 5 minutes. Flip and cook for another 4 to 5 minutes, or until done to your liking. Set aside.
4. Arrange kale on a plate. Top with bison patty, onion, and avocado.
Note: Use kale leaves as you would a bun, wrapped around bison patty, onion, and avocado, if preferred.
Nutrition (1 serving)

Calories 461
Protein 26g
Carbs 17g
Fat 34g
Fiber 10g
Sugar 3g
Inspired to make Spicy Bison Burger? Share it on Instagram and tag @fitplan_app with the hashtag #ieatwithfitplan