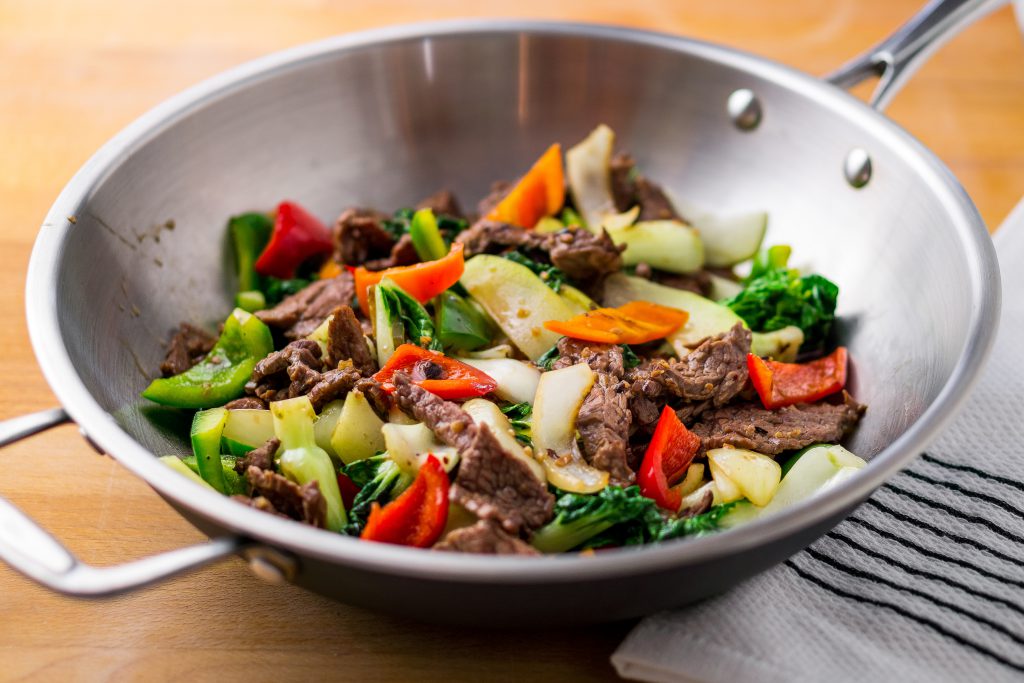 Sirloin Steak and Veggie Stir-Fry with Cashews is a lean-and-clean weeknight dish made with tender slices of sirloin sautéed with colorful veggies including red bell pepper, snow peas, broccoli, and a sprinkle of cashews.
Sirloin Steak and Veggie Stir-Fry with Cashews
Ingredients
2 tsp coconut oil
2 garlic cloves (minced)
⅓ cup onion (minced)
1 tbsp fresh ginger
¼ cup cashews
10 oz sirloin steak
1 cup snow peas
1 celery stalk (sliced)
1 cup red bell pepper (chopped)
2 cups broccoli (chopped)
1 tbsp fresh lime juice
4 tbsp soy sauce, low medium
¼ cup water
Cooking Instructions

In a medium skillet on medium heat, add coconut oil, garlic, onion, minced ginger, and cashews. Stir and cook the cashews for 2 minutes.
In the same pan, add more coconut oil along with the sirloin steak slices. Sauté the steak on medium for approximately 8 minutes until browned.
In the same pan, add the snow peas, celery, red bell pepper, broccoli, lime juice, soy sauce, and water. Let the stir-fry simmer on medium high and continue to stir and cook for 4 minutes.
Turn the heat down to low and let it simmer for 1 minute. Serve immediately in a small bowl, enjoy!
Nutrition (1 serving)

Calories 530
Protein 34g
Carbs 27g
Fat 33g
Fiber 4g
Sugar 3g
Inspired to make our Sirloin Steak and Veggie Stir-Fry with Cashews? Share it on Instagram and tag @fitplan_app with the hashtag #ieatwithfitplan