This Paleo Breakfast Casserole by Mealplan Nutrition Expert Amanda Meixner is packed with 21 grams of protein per serving; perfect for a nutritious, on-the-go meal in the mornings.
As Instagram's #1 meal prep guru, Amanda designed this dish so you can easily prep it on Sunday and be breakfast-ready for the entire week.

What makes it paleo? Sausage, eggs, fresh veggies and spices are all approved for the paleo diet, which involves eating whole foods and healthy oils and fats. Based on what Paleolithic hunters and gatherers might have eaten, the paleo diet avoids highly processed foods like sugar, soft drinks, grains and trans fats.

Not only does this casserole provide a ton of protein, it's also teeming with plant-based nutrients, including vitamin b, c and d, potassium, selenium, iron and magnesium. A true breakfast of champions, and it's super easy to make.

Just whip this big-batch breakfast together and store in an air-tight container. When you're ready for your first meal of the day, simply microwave a slice for a moment or two and enjoy with your morning coffee.

Want more meal prep-friendly recipes like this? Get your personalized nutrition program on Mealplan.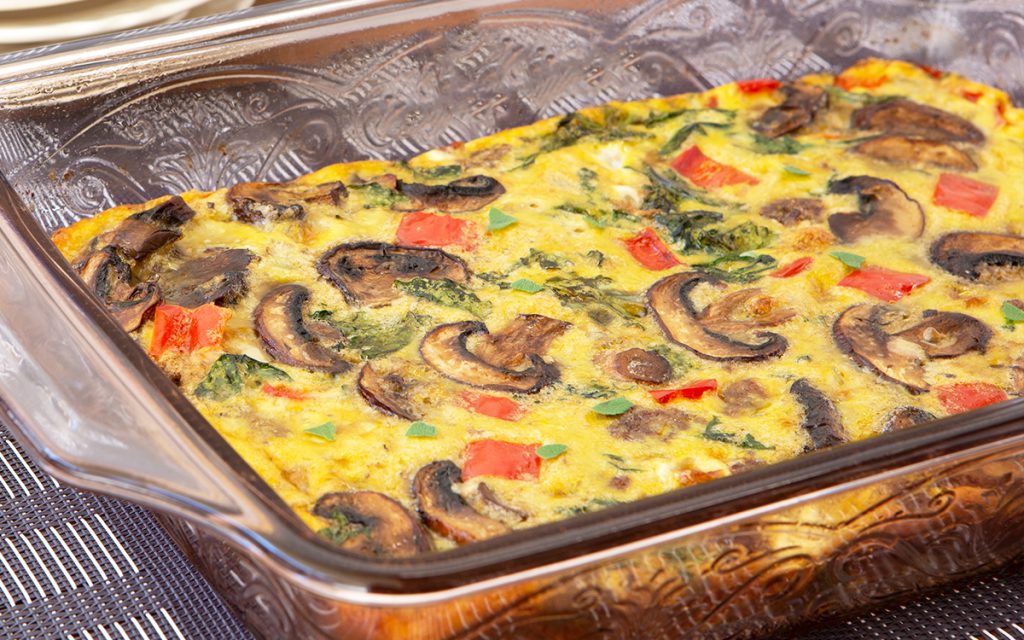 Paleo Breakfast Casserole

Watch Amanda's mini video tutorial above.
Ingredients:
6 oz Italian sausage
1/4 red onion
1 red bell pepper
8 oz mushrooms
2 cups baby spinach or kale
10 eggs
1/4 cup unsweetened almond milk
1/4 tsp sea salt
1 tsp ground cumin
Directions:

1. Preheat oven to 375°F / 190°C . Coat a 9 x 12-inch baking dish with cooking oil spray.
2. Heat a large skillet over medium heat; coat with cooking oil spray. Add sausage; cook, turning to brown on all sides, for 3 minutes.
3. Add onion, bell pepper, and mushrooms; cook, stirring occasionally, until mushrooms are brown, about 5 minutes.
4. Add spinach or kale to the pan and cook until just wilted.
6. Whisk eggs in a medium bowl; add almond milk, salt, and cumin (if using).
7. Pour the cooked sausage mixture into the egg mixture. Stir to combine. Then, pour the egg and sausage mixture into the prepared baking dish.
8. Bake for 20 minutes or until eggs are set. Slice into 8 servings.

Nutrition and Macros Per Serving
8 servings
248 calories per serving

21 g protein
11 g carbs
13g fat
2.4 g fiber
3.4 g sugar

Inspired to make this Paleo Breakfast Casserole ? Share it on Instagram for a chance to be featured. Tag @mealplan_app and #MyMPRecipe.