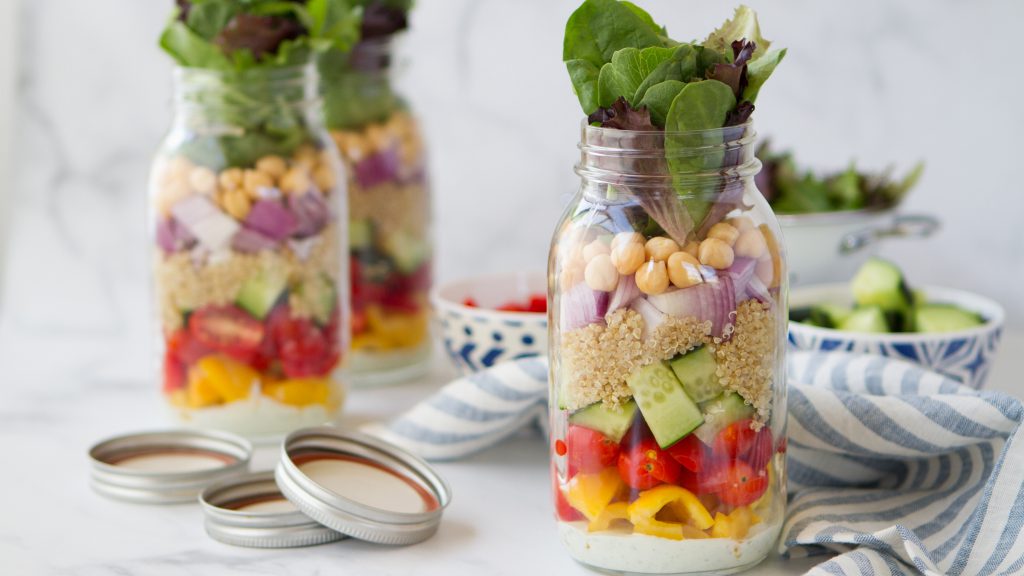 Are you looking for a plant-based protein option for lunch? Lauren Findley's Green Goddess Salad Jar is full of colorful vegetables and grains making it rich in protein and dietary fibers to keep you going strong.

Goddess Salad Jar
Ingredients
½ cup water
¼ tsp sea salt
¼ cup quinoa, uncooked
1 tbsp green goddess dressing
½ cup tomato (chopped)
½ cup yellow bell pepper
½ cup cucumber (chopped)
½ cup chickpeas (canned)
¼ cup red onion (chopped)
2 cups mixed greens
Cooking Instructions
To prepare the quinoa:
1. Rinse quinoa in a fine mesh sieve until water runs clear; drain and transfer to a medium pot. Add water and a pinch of salt and bring to a boil.
2. Cover; reduce heat to medium-low and simmer until water is absorbed, about 15 to 20 minutes.
3. Remove from heat and let sit, covered, for 5 minutes. Remove lid and fluff with a fork. Set aside.
To prepare the salad jars:
1. Pour dressing into a 32 oz. jar (for a single serving) so that it coats the bottom.
2. Layer tomatoes, bell pepper, and cucumber, cooked quinoa, chickpeas, and red onion on top of dressing in the jars. If making more than one salad jar, divide ingredients evenly between jars.
3. Top with mixed greens, packing tightly if needed. Seal jar with a lid. Shake well before serving.
Note: It's best to make the number of servings required for your weekly meal plan all at once and store remaining salad jars in the refrigerator to have throughout the week.
Nutrition (1 serving)

Calories 312
Protein 13g
Carbs 52g
Fat 8g
Fiber 13g
Sugar 8g
Inspired to make this delicious Goddess Salad Jar? Share it on Instagram and tag @fitplan_app with the hashtag #ieatwithfitplan