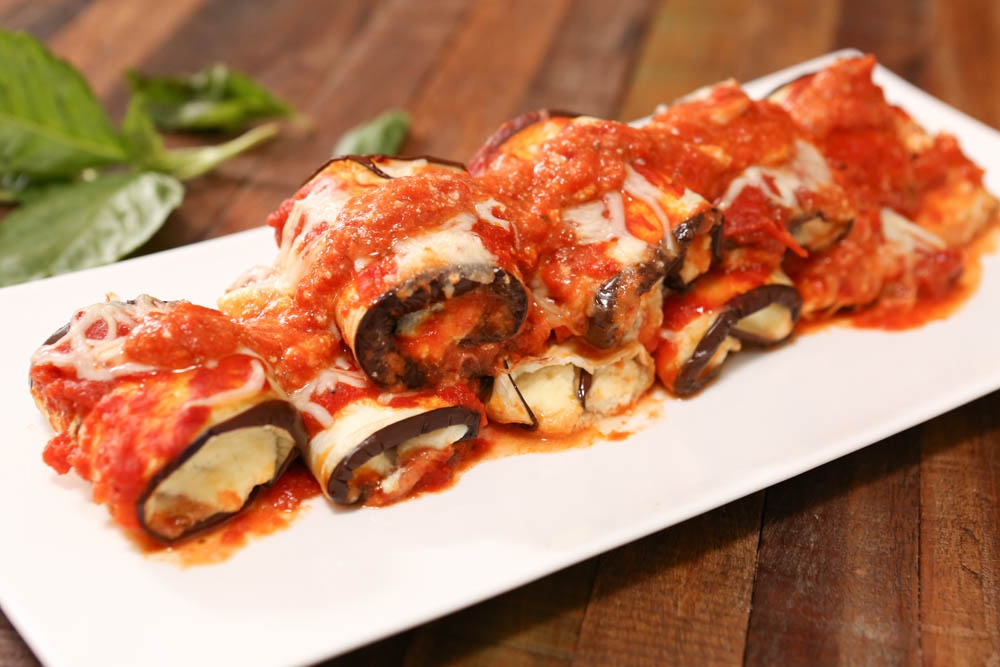 Bring the taste of Italy to your home with this easy-to-make vegetarian recipe. Michelle's Eggplant Lasagna is a healthy, fast vegetarian meal, you can make any day of the week. This recipe is full of vitamin C, vitamin K and vitamin B6, all provided by the eggplant.


Eggplant Lasagna
Ingredients
Topping
½ cup marinara sauce
1 cup almond cheese (vegan cheese)
Eggplant Lasagna
1 eggplant (aubergine)
2½ cups ricotta cheese
1 cup vegan cheese
¼ cup fresh basil
1 tsp sea salt
Black Pepper
1 egg
1½ cups marinara sauce
Cooking Instructions

Preheat the oven to 350°F / 180°C / Gas 4.
Slice the ends of the eggplant into ¼ inch (6mm) slices and lay them on a parchment paper-lined baking sheet.
Salt both sides of the eggplant and set aside to soften for 20 minutes, then dry them with a paper towel.
Bake the eggplant for 20 minutes, or until soft.
While the eggplant is cooking, combine ricotta cheese, almond cheese, basil and egg in a medium-sized bowl.
Remove eggplant from the oven and set oven to 400°F / 200°C / Gas 6.
Spoon about 2 tablespoons of the mixture onto eggplant slices then roll them up.
In a 11×17- inch (28×43 cm) baking sheet, pour ½ cup marinara sauce, then add all the eggplant rolls, seam down. Pour over the remaining marinara sauce, and top with basil and parmesan.
Bake for 25 minutes, or until cheese is melted and golden brown.
Nutrition (1 serving)

Calories 351
Protein 20g
Carbs 29g
Fat 18g
Fiber 7g
Sugar 12g
Inspired to make our Eggplant Lasagna? Share it on Instagram and tag @fitplan_app with the hashtag #ieatwithfitplan