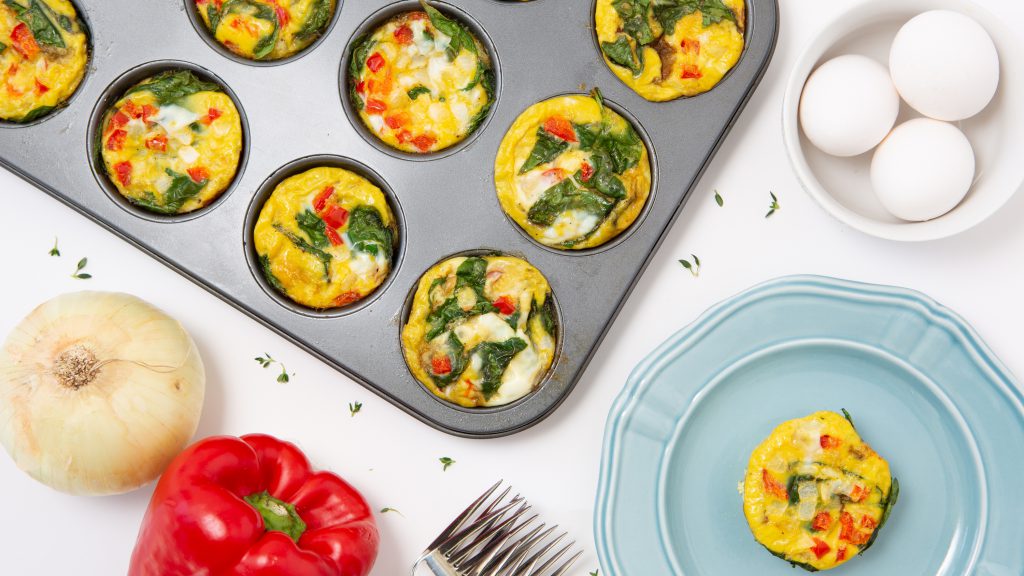 Egg cups are an ideal grab-and-go breakfast. They require minimal prep time yet make a satisfying breakfast to have throughout the whole week. Store them in the fridge and simply reheat in the microwave or toaster oven.

Egg Cups
Ingredients
Cooking spray (olive, avocado, coconut)
12 eggs
120ml / 4.2 fl oz almond milk (unsweetened)
¼ tsp sea salt
30g / 1.1 oz spinach leaves
75g / 2.6 oz onions
160g / 5.6 oz red bell peppers
Cooking Instructions
1. Preheat oven to 350°F / 175°C / Gas 4.
2. Prepare muffin cups by coating with non-stick cooking spray (olive or coconut oil). Set aside.
3. Combine almond milk and eggs in a medium bowl. Season with salt and pepper, if desired; whisk to blend. Set aside.
4. Evenly divide spinach, onion, and bell peppers between prepared muffin cups.
5. Using a ladle or small measuring cup to pour, evenly divide egg mixture between the muffin cups.
6. Bake for approximately 15 to 20 minutes. To check doneness, insert a toothpick into the center of egg cups, if the eggs are set the toothpick should come out clean.
Nutrition (1 serving)

Calories 231
Protein 19g
Carbs 4g
Fat 15g
Fiber 1g
Sugar 1g
Inspired to make Egg Cups? Share it on Instagram and tag @fitplan_app with the hashtag #ieatwithfitplan