This Southwest Black Bean Burger by Mealplan Nutrition Expert Jen Heward is bursting with flavor and protein. One cup of black beans offers 15 grams of protein and fiber, as well as a number of healthy antioxidants, vitamins, and minerals.

Perfect for meal prep, this recipe makes three patties, which can be easily reheated in the microwave. Whip these up on a Sunday, and set yourself up for lunchtime success Monday through Wednesday. With their great balance of macros, these patties are meant to be served on a bed of mixed greens or in a lettuce wrap.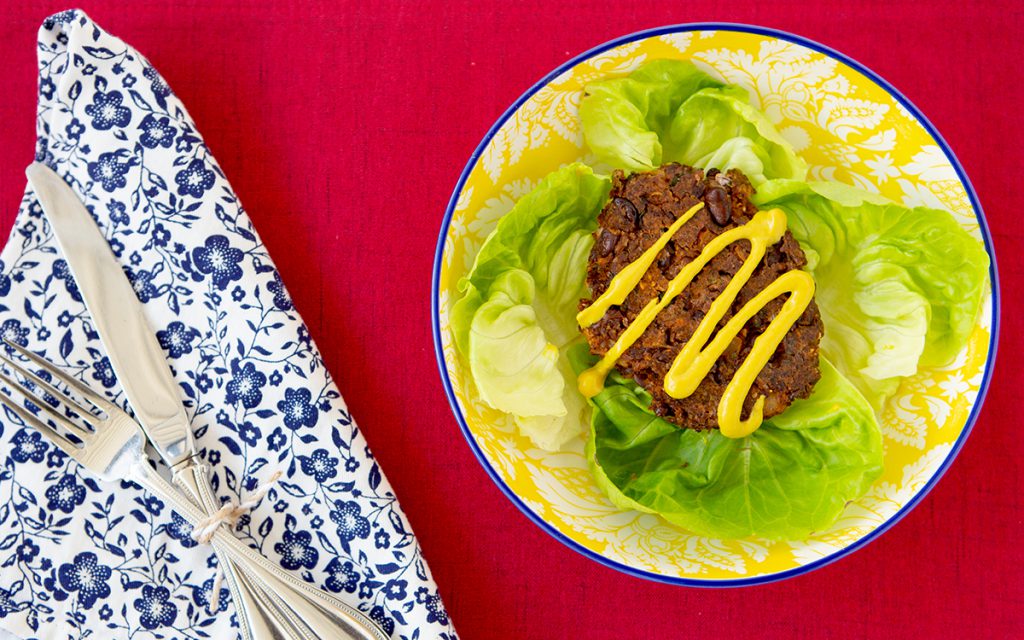 Southwest Blackbean Burger
Ingredients

1/2 cup gluten free oats
1 cup canned black beans drained and rinsed
1/3 cup chopped onion
1 tsp garlic powder
1 tbsb dried oregano
1 tbsp dried basil
1 tsp ground cubmin
1 tbsp chili powder
1 garlic clove minced
1/4 tsp sea salt
1/2 tsp black pepper
1 egg
2 tbsp ground flaxseed
2 tbsp chipotle cholla sauce (optional)
1 tbsp olive oil
Directions
1. Add the rolled oats into a food processor and mix until it has a flour-like appearance. Set aside.
2. Drain the black beans. Set half of the beans aside and put the other half of the beans in food processor. Blend to form a black bean paste.
3. Using a spatula, transfer the bean paste into a large bowl. Add the remaining black beans, onion, garlic powder, oregano, basil, cumin, chili powder, minced garlic, sea salt, and black pepper. Mix everything together.
4. Mix in the egg, flax meal, oat flour, and chipotle sauce (if using). Set aside.
5. Heat a large skillet with olive oil. Using clean hands, form patties with the bean mixture.
6. Add the patties to the skillet and cook on medium for 5 to 8 minutes before flipping.
7. Cook the opposite side for another 5 to 6 minutes, until slightly browned. Turn off the heat and serve immediately or store in a sealed glass meal prep container in the fridge. Enjoy!

Nutrition

Makes 3 servings
350 calories perserving
16 grams protein
12 grams fiber
44 grams carbs
14 grams fat
6 grams sugar
Inspired to make these Southwest Black Bean Burgers? Share them on Instagram for a chance to be featured. Tag @mealplan_app, #MyMPRecipe.