These protein-rich Bison Lettuce Cups by Mealplan Nutrition Expert Jen Heward are a simple and delicious low-carb meal packed with savory spices like paprika, garlic powder, and cumin.

Have you ever tried bison? Bison meat is a leaner alternative to beef, and contains omega-3 fatty acids (though the amount is minimal compared to fish). Environmentally-conscious people believe bison meat production to have a lesser environmental footprint compared to beef, as bison are generally grass-fed and raised on farms and ranches.

Keeping bison in your protein rotation is a great way to mix it up and reap the nutritional benefits of red meat like iron, B-12 and zinc with less calories and fat.

Topped with fresh tomatoes, onions and avocado, these Bison Lettuce Cups are a well-balanced, low-carb dish to add to your meal prep regimen.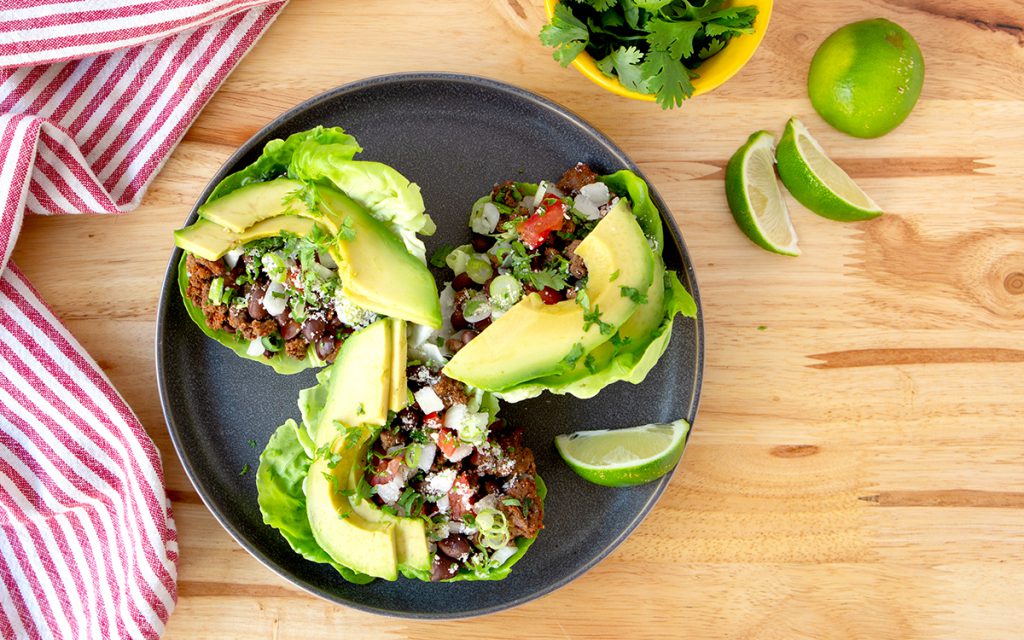 Bison Lettuce Cups

Ingredients

1/2 tbsp parmesan cheese
2 ounces avocado
2 oz cherry tomato
6 butter lettuce leaves
8 oz lean ground bison
2 tbsp chopped green onion
2 tbsp chopped onion
2 tbsp cilantro or coriander
1 tsp ground cumin
1 tsp paprika
1 tsp garlic powder
1 spray cooking oil
1/4 tsp sea salt


Directions
Watch Jen's mini tutorial above.
1. In a medium skillet, spray with olive oil. Add onions and sauté for 2 minutes.
2. Next add bison, sea salt, ground cumin, paprika, and garlic powder. Cook and stir for about 6 to 9 minutes or until browned and thoroughly cooked.
2. Halve the cherry tomatoes, chop the green onion, and slice the avocado. Ensure the black beans have bean drained and rinsed.
3. Separate the lettuce leaves onto a plate or meal prep container, layer with bison mixture, black beans, and top with tomatoes, cilantro, green onion, and sliced avocado.
4. Optional to lightly sprinkle with fresh parmesan cheese. Enjoy!

Nutrition Info
2 servings
351 calories per serving
36 grams protein
19 grams carbs
16 grams fat
15.4 gams fiber
4.4 grams sugar
Inspired to make these Bison Lettuce Cups? Share them on Instagram for a chance to be featured. Tag @mealplan_app and #MyMPRecipe.