This isn't your average protein shake. Fitplan and Mealplan President Cam Speck is all about optimizing every aspect of his life, including what goes in his blender. His secret weapon? Athletic Greens.

Athletic Greens is a nutrition supplement containing 75 key vitamins and minerals. Each serving is designed to support your liver, hormones, gut health and immune system, as well as increase energy and promote healthy aging.
Our friends at Athletic Greens are offering Fitplan Blog readers 20 free travel packets with their first purchase. Grab them here.
This concoction not only contains the nutrients of Athletic Greens, but also adds whey powder for the all-important protein boost, as well as anti-oxidant and vitamin-packed berries, and half a banana for potassium, sweetness and texture.

It's no wonder Cam dubbed it the Superhuman Shake.

Make this for breakfast or any time of day for a nutrient boost that'll leave you feeling unstoppable.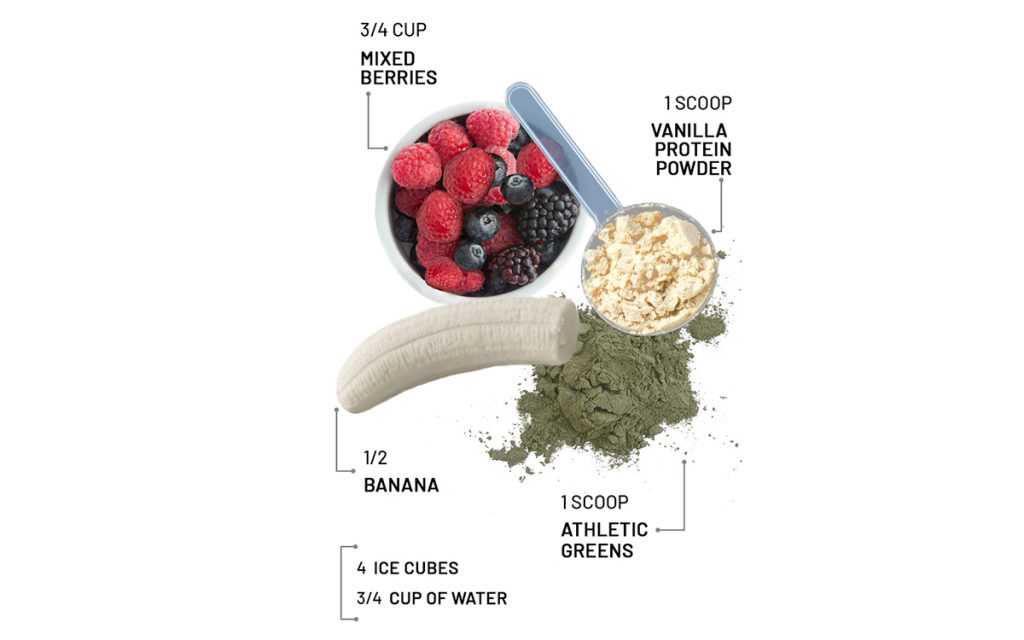 Superhuman Protein Shake Recipe

Ingredients:
1 cup water
1/3 cup mixed berries
1/2 frozen banana
1 scoop vanilla whey protein powder
1 scoop Athletic Greens powder
4 ice cubes

Directions:
Watch Cam's mini tutorial above.
1. Add water, berries, ½ banana, whey protein powder, Athletic Greens Powder, and ice to a blender. Cover.
2. Blend for 30 seconds or until smooth.
2. Pour into a tall glass and enjoy!

Nutrition and Macros

Calories: 265
35 g protein
27 g carbs
1.6 g fat
12.3 g sugar

Inspired to make this Superhuman Protein Shake ? Share it on Instagram for a chance to be featured. Tag @mealplan_app, #MyMPRecipe and #AthleticGreens.