Get the sweet and comforting flavor of a peanut butter and jelly sandwich with Mealplan Expert Amanda Meixner's PB&J Overnight Oats recipe.

This tasty breakfast hack is super easy to make and requires zero cooking. We love making overnight oats because all it involves is layering your ingredients in a Mason jar (or any type of glass jar) then popping it in the fridge.

Instead of high-sugar jam or jelly, these PB&J Overnight Oats use fresh blueberries and strawberries, which are low glycemic (aka low sugar) fruits and are packed with vitamin C, folate and antioxidants. Chia seeds add omega-3 fatty acids and even more antioxidants to this mix, while the oats do the heavy lifting with fiber and keep you satiated through lunch.

Prep these PB&J Overnight Oats on a Sunday, and have a nutritious grab-and-go breakfast for the next three days. We'd expect nothing less from Amanda, Instagram's meal prep guru.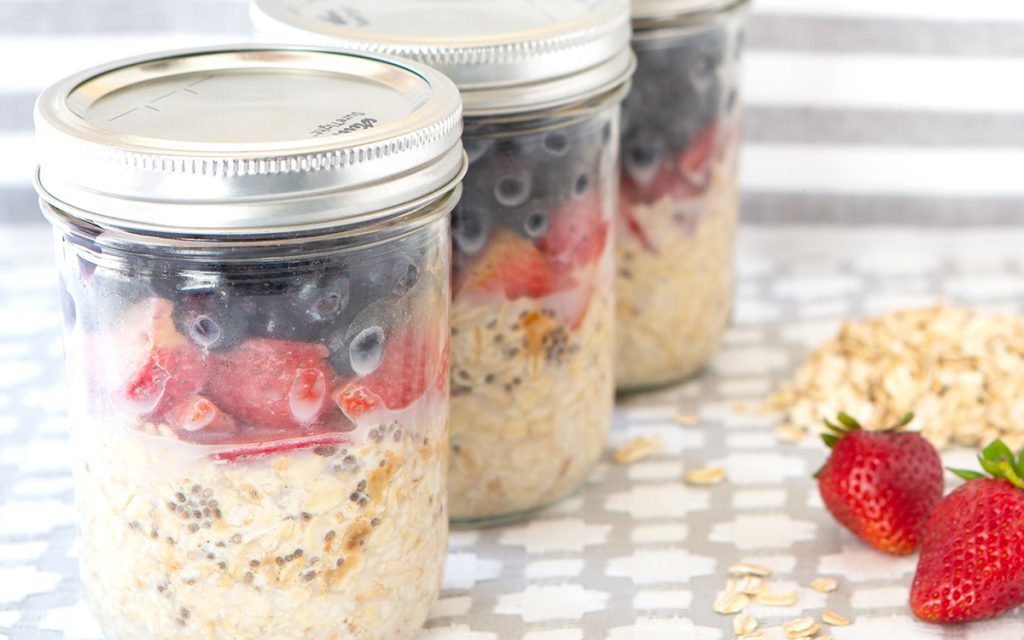 PB&J Overnight Oats

Ingredients
1 1/2 cup gluten free oats
1 cup unsweetened almond milk
1 cup water
3 tsp chia seeds
6 tsp natural peanut butter
3 tsp honey
1 1/2 cup strawberries
1 1/2 cup blueberries

Directions
Watch Amanda's mini tutorial above.

1. In each jar, layer ½ cup oats, ⅓ cup almond milk, ⅓ cup water, 1 tsp. chia seeds, 2 tsp. peanut butter, 1 tsp. honey, ½ cup strawberries, and ½ cup blueberries.
2. Seal jars with lids and place in the fridge overnight. Serve chilled.

Nutrition and Macros

3 servings, 309 calories per serving

9 grams protein
38 grams carbs
14 grams fat
8 grams fiber
17 grams sugar
Inspired to make these PB&J Overnight Oats? Share them on Instagram for a chance to be featured. Tag @mealplan_app, #MyMPRecipe.