These Fudgy Flourless Brownies by Mealplan Nutrition Expert Jen Heward are a healthy, protein-packed sweet snack.

Made with a secret ingredient (shhhh … it's chickpeas!), this nutritious version of a classic comfort dessert can actually help curb unhealthy food cravings, stabilize blood sugars, and sustain fullness throughout the day.

Chickpeas, also known as garbanzo beans, may also help prevent heart disease, diabetes and cancer. If you're someone who's particular about their brownies, e.g. the nuts vs. no-nuts debate, chickpeas definitely belong in this sweet treat based on their nutritional benefits alone.

Make this recipe as part of your meal prep, or as a surprise for the office. See if anyone can tell that these fudgy, flourless brownies are made with simple, clean ingredients. We bet they can't!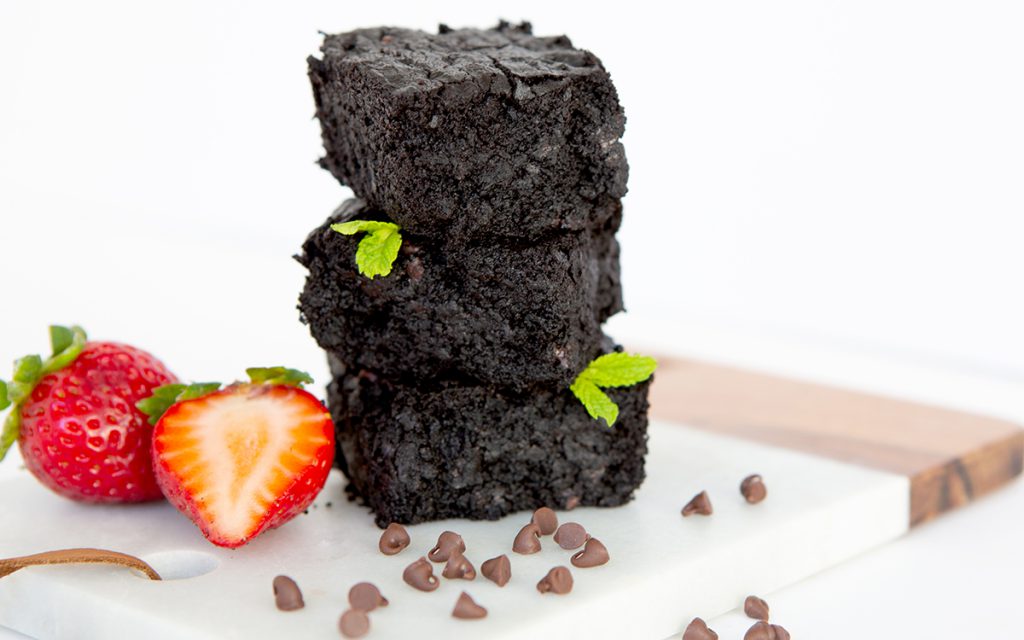 Fudgy Flourless Brownies
Ingredients

1 cup chickpeas
1/3 cup cocoa powder
1 egg
4 oz banana
1/2 cup coconut sugar
1 tsp vanilla extract
1 tsp baking soda
1/2 cup coconut oil
1/2 cup dark chocolate chips
Directions
Watch Jen's mini tutorial above.
1. Preheat the oven to 350°F / 175°C and grease a medium baking dish.
2. In a bowl (or using a food processor) mash banana with a fork until smooth.
3. Add egg and coconut oil. Mix well.
4. Drain and rinse chickpeas. In a separate bowl, mash the beans until smooth using a fork (or use a food processor).
5. Next, add mashed banana to the mashed beans and mix well until everything is combined.
6. Add baking soda, vanilla, coconut sugar, and cocoa powder. Mix well. Stir in the dark chocolate chips (if using).
7. Pour the batter into the greased baking dish. Bake for about 25 to 30f minutes. Check the consistency of the brownies by poking the middle with a fork, if they are still gooey then let them cook for another 3 to 5 minutes.

Nutrition

8 servings
267 calories per serving
4.5 grams protein
32 grams carbs
17 grams fat
4.7 grams fiber
21 grams sugar
Inspired to make these Fudgy Flourless Brownies ? Share them on Instagram for a chance to be featured. Tag @mealplan_app, @hunnybunsfitand #MyMPRecipe.