People call Calum von Moger the "Arnold Schwarzenegger" of his generation. The Australian bodybuilder — who is of Dutch and Austrian descent (like Arnie)— seems destined to follow in Arnold's footsteps. Schwarzenegger won his first Mr. Universe at 23 and went on to win the competition 4 times!
A self-described skinny kid, Calum started out lifting rusty old weights in an empty warehouse, motivated by the goal of one day being as strong as his older brother. He has now taken it a lot further than that!
Ready to start seeing real gains? Get professional personal training with Fitplan. Step-by-step daily workouts designed to build your physique the right way. Try it free for 7 days.
The Workout Routine Of Calum von Moger
Calum's workout routine includes up to three hours of training each day. He does one hour of cardio and up to two hours of weights. He follow this workout routine six days a week and to fuel his performance in the gym he eats roughly every two hours.
When asked about the similarities he shares with Arnold Swartzenegger, Calum says: "I've looked up some pics and I can see why people say there are similarities. But I don't want to be typecast as that or be in his shadow. The most important thing is to be yourself, whoever you are."
Mad Desire: The Story of Calum von Moger
Need some inspiration for your workouts? Watch this short documentary on Calum von Moger's rise to fame.
Day 1) ✅ Chest Workout
An excellent video from Bodybuilding.com that follows Calum's full chest routine in the gym.
Flat Bench 5x 5-15 reps
Incline Dumbbell 4x 6-12
Flat Dumbbell fly 4x 10-15
Dumbbell Pullovers 3x 10-12
Dips 4x failure
Day 2) ✅ Back Workout
Follow Calum as he does his back workout in this short 2-minute video.
Chins 4x failure
Barbell Bent Over Rows 4x 8-12
Lat Pulldown 4x 8-12
One Arm Dumbbell Rows 4x 8-12
Close Grip Lat Pulldown 4x 8-12
Day 3) ✅ Rest Day
This is how Calum von Moger rolls on his rest days.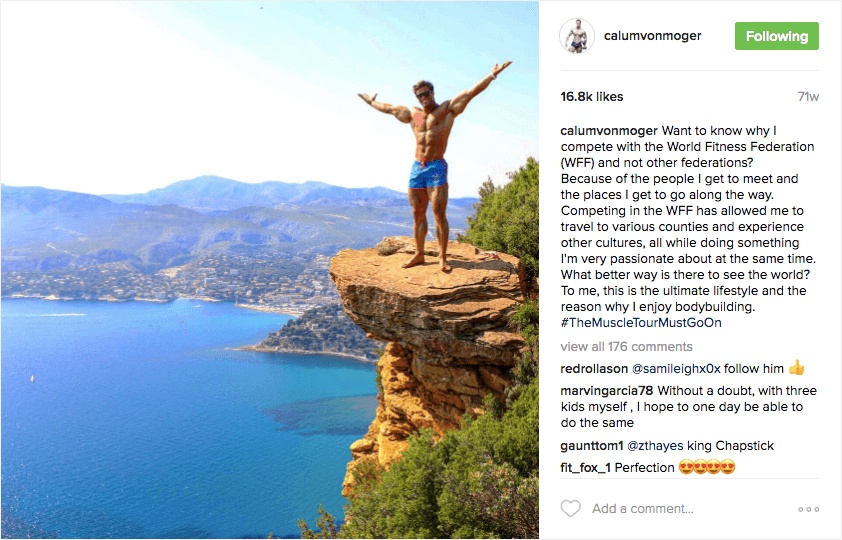 Day 4) ✅ Shoulders Workout
After a short introduction, this video follows Calum's workouts at his gym in Venice Beach.
Seated Barbell Press 5x 6-12
Seated Dumbbell Press 4x 6-12
Side Lateral Raises 3x 10
Rear Cable Fly's 3x 10
Barbell Shrugs 4x 6-12
Day 5) ✅ Legs Workout
A short video Calum recorded on his iPhone showing a quick overview of his legs workout.
Squat 6x 6-15
Leg Press 4x 8-12
Leg Extension 4 x 8-12
Stiff Leg Deadlifts 4x 8-12
Lying Leg Curls 4x 15
Standing Smith Machine 5x 20
Standing Calf Raises (free weight) 4x 50
Day 6) ✅ Arms Workout
A documentary-style video with an interview and instructions from Calum for how he works out his massive arms.
Barbell Curls 5x 6-12
Preacher Curls 4x 6-10
Concentration Curls 4x 6-10
Lying Skull Crushes 5x 6-12
Cable Extensions 4x 8-12
Rope Pulldowns 3x 10
Day 7) ✅ Biceps and Triceps Workout
Another great workout from Calum for your biceps and triceps that is worth watching.
h/t to SimplyShredded for the workout routine details. 
Start training with Fitplan today. It's free to get started.