This flavor-packed recipe includes a spiced coconut marinade and can be prepared in under 20 minutes. Perfect for when you're pressed for time but still want to eat clean.

We prefer wild salmon to farmed, as they have drastically different macros. One serving of wild salmon contains nearly half the calories and fat of farmed salmon and offers almost six times the amount of omega-6 fatty acids.

Wild salmon eat other organisms found in their natural environment like krill, crab and shrimp, which are high in a heart-healthy carotenoid called astaxanthin. Farmed salmon are raised on a high-fat, high-protein feed to produce larger fish, and are more likely to contain contaminants.

However, both wild-caught and farm-raised salmon offer a slew of health benefits, and are a great resource for lean protein.

This recipe creates three servings, perfect for a healthy group dinner or several nights' worth of meal prep.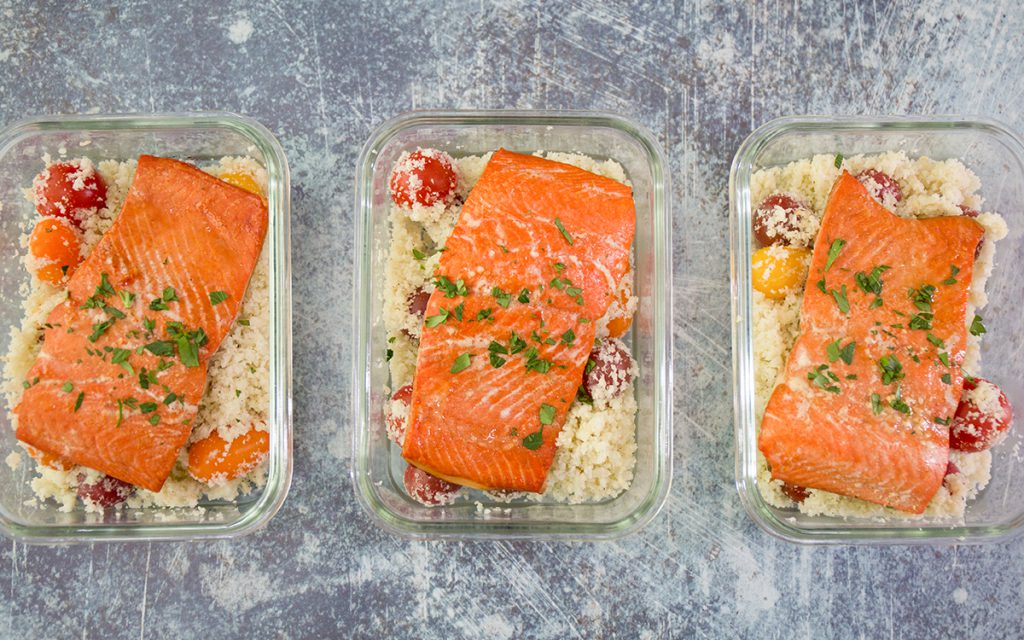 Fitplan's Spicy Salmon with Cauliflower Rice
Ingredients

1 orange
1/4 cup coconut aminos
1 tbsp honey
1tbsp sesame oil
3 tbsp sriracha
1 lb wild-caught salmon
2 cups cherry tomatoes
4 1/2 cups cauliflower rice
1 tbsp olive oil
1/4 tsp salt

Directions

For the salmon:
1. Preheat oven to 400°F / 200°C / Gas 6.
2. In a medium bowl, mix together the orange juice, coconut aminos, honey, sesame oil, and sriracha.
3. Add the salmon and let it marinate for about 20 minutes.
4. Line a baking sheet with foil or parchment paper paper and spray with cooking oil spray.
5. Place the marinated salmon on the baking sheet and bake for approximately 14 to 15 minutes or until the salmon flakes easily with a fork.

For the cauliflower rice:
1. Cut the cauliflower into bite-sized florets.
2. Add cauliflower florets to a food processor and pulse until they form rice-like granules.
3. Transfer the cauliflower rice to a paper towel and press to remove any excess moisture.
4. Add olive oil to a medium skillet on medium heat.
5. Add the tomatoes and cook for 2 to 3 minutes.
6. Add the cauliflower rice to the skillet and sauce for 1 minute with the tomatoes. Once the salmon has finished baking, serve with the cauliflower-veggie rice or see below for meal prep instructions.

To prepare 1 serving of the meal prep:
1. In a single sealed glass meal prep container add approximately 5 to 5 1/2 ounces of salmon, and 1/3 of the cauliflower rice. Enjoy!
Nutrition Info
3 servings
312 calories per serving
25 grams protein
30 grams carbs
30 grams fat
5 grams fiber
18 sugar
Inspired to make Fitplan's Spicy Salmon with Cauliflower recipe? Share it on Instagram and tag @fitplan_app with the hashtag #ieatwithfitplan!

Download the Fitplan App to access more recipes like this! Our nutrition library hosts hundreds of recipes that have been carefully designed for everyone, and every diet.