Fitplan's lemon and caper Mahi Mahi recipe is the ultimate protein-packed dish and can be easily meal prepped. Mahi Mahi is a lean fish that contains tons of B vitamins and essential minerals. It tastes amazing combined with our eggplant and squash ratatouille.

What is Ratatouille? It's a stewed vegetable dish that originated in the south of France. In this particular recipe, the ratatouille is made of eggplant, yellow squash, and zucchini, which are great sources of vitamins, antioxidants, and folate.

At 46 grams of protein per serving, this seafood and veggie recipe is hearty and nutritious and makes three servings. Add it to your meal prep rotation, or whip it up for a group.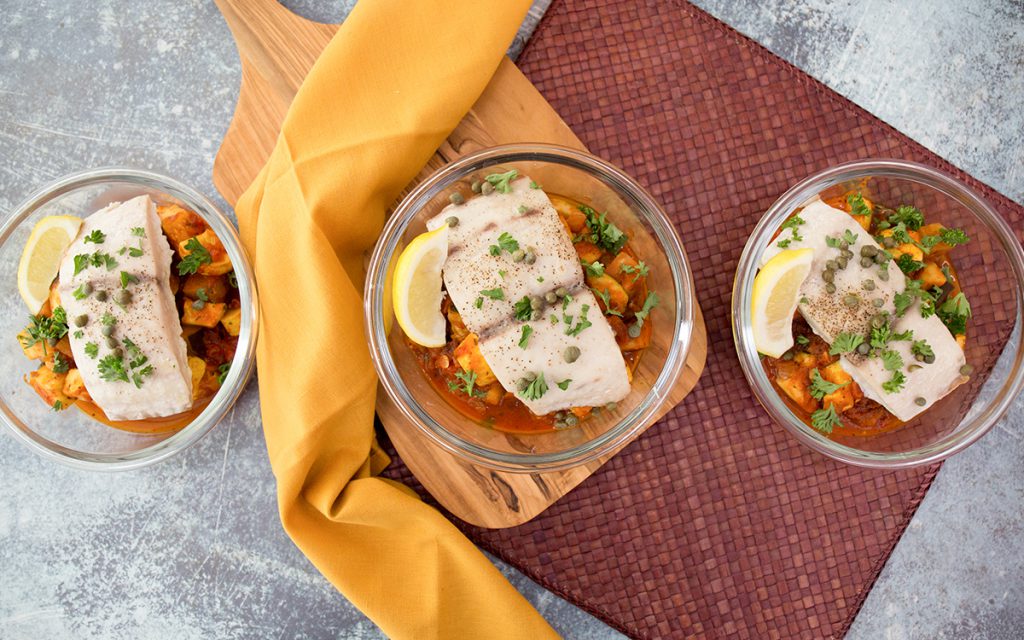 Fitplan's Mahi Mahi with Eggplant Ratatouille
Ingredients
1.5 lb mahi mahi fillet
2 tbsp lemon juice
2 tbsp capers drained
1/4 tsp sea salt
1/4 tsp black pepper
1/2 onion chopped
1/2 eggplant cubed
1 zucchini cubed
1 yellow squash, cubed
3 cups marinara sauce
3 garlic cloves finely chopped
2 tbsp olive oil

Directions

To prepare the fish:

1. Preheat oven to 425°F / 220°C / Gas 7. Spray a baking pan.
2. Add Mahi Mahi and sprinkle salt and pepper.
3. Bake, uncovered, for 10 to 15 minutes, or until fish flakes easily with a fork.
4. Garnish with capers and a lemon slice.

For the ratatouille:

1. In a large saucepan, add oil then the eggplant, onion, and garlic until soft.
2. Add the zucchini and yellow squash. Season with salt and pepper.
3. Add the marinara sauce.
3. Bring to a simmer and cook for 10 minutes.
4. Enjoy with fish on top!

Nutrition Info
Serves 3
440 calories per serving
46 grams protein
9 grams fiber
32 grams carbs
14 grams fat
22 grams sugar
Inspired to make Fitplan's Mahi Mahi with Eggplant Ratatouille? Share it on Instagram and tag @fitplan_app for a chance to be featured.