Start your busy days with Fitplan's Sunny-Side-Up Egg Breakfast. Served with a medley of sautéed asparagus and cherry tomatoes, the veggies can be chopped and prepped ahead to save precious time in the morning.

At 31 grams of protein and 16 carbs, this high-octane breakfast is super easy to make and chock full of nutrients. Asparagus contains high concentrations of vitamin K, which is essential for bone health, as well as folate, a B vitamin responsible for making red and white blood cells.

Eggs are not only an easy and delicious way to start the morning, but they are also a powerhouse of protein, healthy fats, vitamins, and minerals. If you're looking to kickstart your day, get crackin' on this recipe!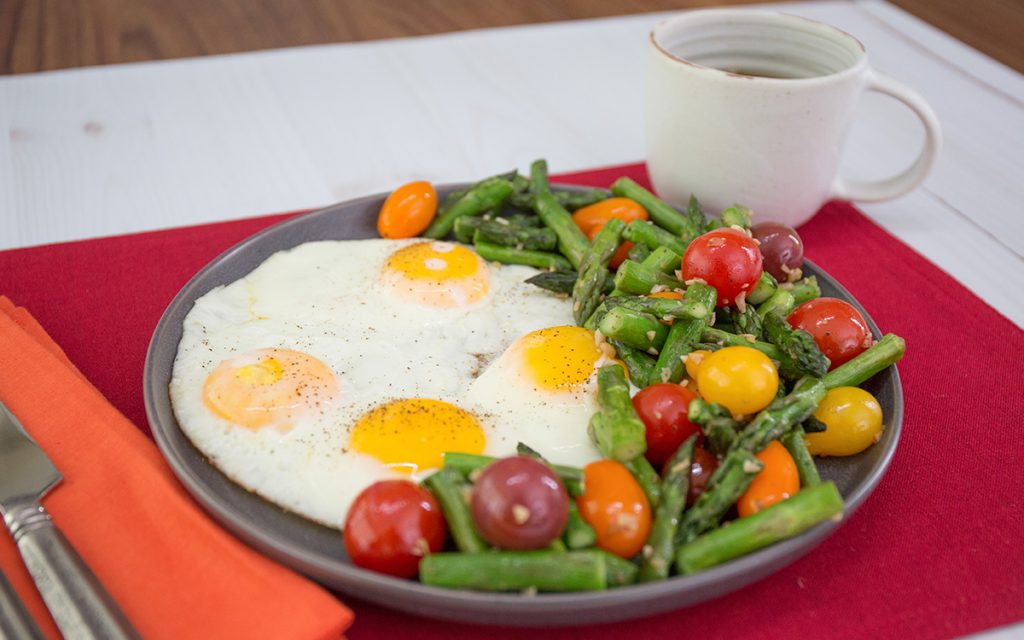 Fitplan's Sunny-Side-Up Egg Breakfast
Ingredients

2 cups asparagus
1 cup cherry tomato
4 eggs
3 garlic cloves
¼ tsp black pepper
¼ tsp sea salt
1 tsp olive oil
Directions

1. Heat a medium pan and add the 1 tsp olive oil.
2. Add the asparagus, cherry tomatoes, and garlic.

3. Top with sea salt and pepper. Cook until soft.
4. Set veggie mix aside.
5. Spray the pan with olive oil. Crack eggs into the pan and cook slowly until whites are completely firm and yolks begin to thicken but are not hard.
6. Once eggs are cooked to the desired doneness, serve with the veggie mix. Enjoy!
Nutrition Info

Makes 1 serving
396 calories
31 grams protein
8 grams fiber
16 grams carbs
25 grams fat
9 grams sugar
Inspired to make Fitplan's Sunny-Side-Up Egg Breakfast? Share it on Instagram and tag @fitplan_app for a chance to be featured.