This Fermented Goodness Bowl by Mealplan Nutrition Expert Dasha Gaivoronski is rich in probiotics, i.e. good bacteria and yeasts. While that might not sound especially appetizing, tons of delicious foods are fermented/contain probiotics, including yogurt, cheese, beer, kombucha and in this particular recipe, sauerkraut, pickled jalapeños and miso.

Eating fermented foods has been shown to improve digestive health and strengthen the immune system, as well as promote weight loss, heart health and mental health. That's why we added the term "goodness" to this bowl —it's packed with it!

With hearty brown rice, chickpeas, eggs and fresh ginger dressing, this Fermented Goodness Bowl is bursting with bright flavors in one well-rounded meal. If you're looking to add zest to your weekly meal prep menu, this bowl truly has everything you need. Plus, it's vegetarian friendly. To make this recipe vegan, just sub the eggs for tofu, tempeh (also fermented!) or your plant-based protein of choice.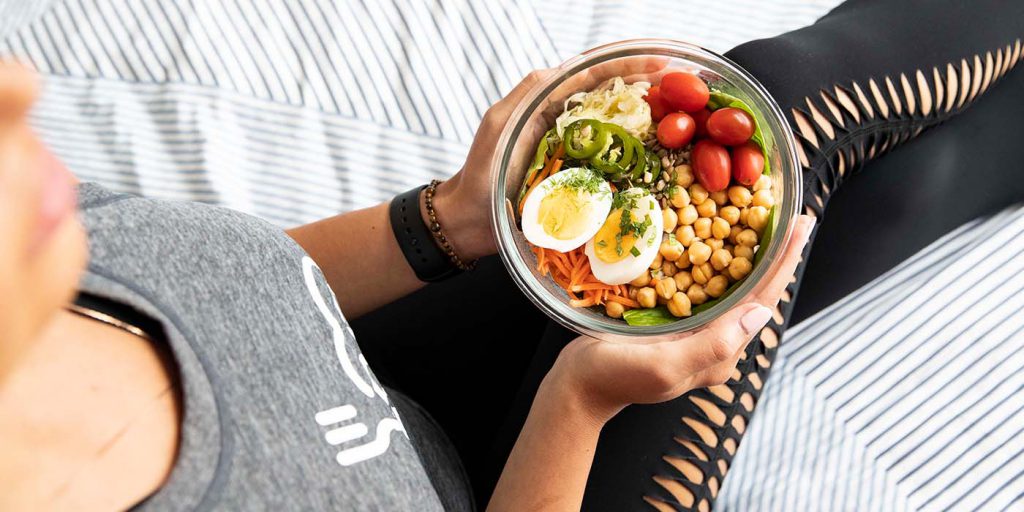 Fermented Goodness Bowl

Ingredients

Bowl Ingredients

1/4 cup cooked brown rice
2 hardboiled eggs
3 1/2 cups mixed greens
1 cup chickpeas
1/2 cup shredded carrots
1/2 avocado
6 tbsp fresh mint
2 tbsp pickled jalapeños
1/2 cup sauerkraut
2 tbsp sunflower seeds
1 tsp fresh dill

Dressing Ingredients

1 tsp fresh ginger
1 tbsp apple cider vinegar
1 tsp honey
2 tbsp olive oil
1 tsp water
1 tbsp white miso paste

Directions
Watch Dasha's mini tutorial above.
To prepare the rice:
1. Bring water to a boil in a medium saucepan (for every cup of rice, use 1 1/2 to 2 cups of water).
2. Pour the rice into the boiling water. Stir once, or just enough to separate the rice.
3. Cover the pot, turn the heat down to its lowest setting, and let the rice simmer for about 18 minutes. Remove from heat and allow the rice to steam in the pot for another 5 to 8 minutes. Set aside.

To prepare the hard-boiled eggs:
1. Place the eggs in a medium saucepan and top with 1 inch of cold water (ensure the eggs are completely covered). Cover with a lid and bring water to a boil over high heat. Boil eggs for 6 to 7 minutes over medium-high heat (best to use a timer to ensure the eggs are not overcooked).
2. Using a large spoon, transfer the eggs to a large bowl with ice cold water and let them cool for 2 minutes. This immediate cooling helps prevent a green ring from forming around the yolks. Once the eggs have cooled, carefully peel off the shells and slice the hard-boiled eggs.

To prepare the dressing:
1. Combine olive oil, apple cider vinegar, ginger, honey, miso paste, and water together in a small bowl. Set aside or store in a glass jar or container in the fridge.

To assemble the bowls:
1. Divide mixed greens, cooked rice, chickpeas, shredded carrot, sauerkraut sliced avocado, and sliced hard-boiled eggs into bowls or into large meal prep containers.
2. Top with pickled jalapeño, sunflower seeds, fresh dill, and mint leaves. When ready to eat, drizzle each bowl with about 1 tbsp of dressing. Enjoy!
Nutrition Info
2 servings
569 calories per serving
21.7 grams protein
65 grams carbs
26.6 grams fat
18.7 grams fiber
7.5 grams sugar
Inspired to make this Fermented Goodness Bowl ? Share it on Instagram for a chance to be featured. Tag @mealplan_app, and #MyMPRecipe.