Did you know that eating breakfast regularly can lead to improved mood and energy levels throughout the day, and can also help to improve memory and feelings of calmness?

Food is incredibly powerful and it can change your whole day and mood, especially depending on what you have (or don't have) for breakfast.

Power your morning with this easy-to-make breakfast! These savory egg yam boats are filled with protein, healthy carbs and a ton of fresh veggies. They are the perfect way to start (or end) your day!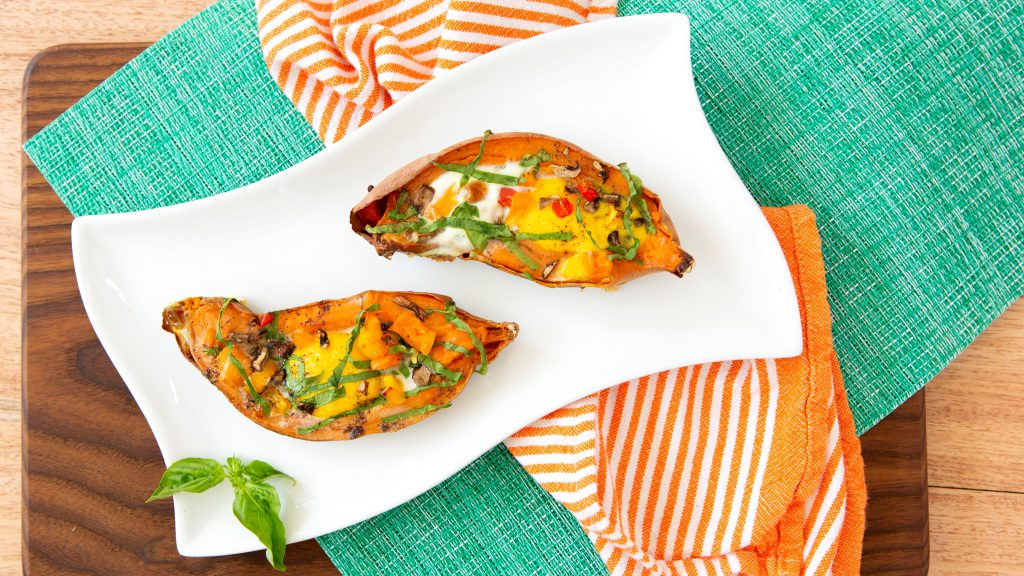 Egg in a Yam Boat
Ingredients
¼ cup spinach
¼ red bell pepper
1 cup of mushroom
1 cup ham or sweet potato
1 egg
1 tsp black pepper
1 tsp olive oil
Cooking oil spray (avocado/coconut/olive)
Cooking Instructions

Preheat the oven to 400°F / 200°C / Gas 6.
Using a fork, poke holes in the sweet potato/yam. Lightly coat with olive oil.
Place onto a parchment lined baking sheet and bake in the oven for about 35-45 minutes or until tender when poked with a fork.
Once the sweet potato has finished cooking, remove from the oven, carefully let it cool. Cut it in half and scoop out the sweet potato flesh and set aside for your meal prep.
Crack an egg into the middle of the sweet potato. Return the sweet potato back to the oven and bake for another 10-15 minutes or until the egg is cooked to your desired preference.
While the sweet potato is baking, lightly grease/spray a small skillet.
Sauté the mushrooms, bell pepper, and spinach together for 3 to 4 minutes. Turn off the heat and set aside.
Once the egg has finished cooking, remove from the oven and add to a plate. Layer the egg-sweet potato boat with the sautéed spinach, chopped bell pepper and mushrooms. Serve with remaining baked sweet potato. Enjoy!
Nutrition (1 serving)

Calories 207
Protein 11g
Carbs 31g
Fat 5g
Fiber 6.6g
Sugar 12g
Inspired to make our Egg in a Yam Boat recipe? Share it on Instagram and tag @fitplan_app with the hashtag #ieatwithfitplan