Fitplan co-founder and president, Cam Speck, spends a great deal of time behind the camera. He and the Fitplan production team are constantly traveling the globe to bring subscribers the best instructional and lifestyle fitness content on the market.
With such a fast-paced career, finding time to work out can be a challenge. That's why Cam decided to step in front of the camera to create his own Fitplan, Bodyweight Burner.
Try Bodyweight Burner free for the first 7 days.
This efficient and equipment-free program is designed to be done anywhere, and keep your mind and body strong even when time is tight.
Cam told us more about Bodyweight Burner and how cultivating the mindset of a champion is the first step to greatness.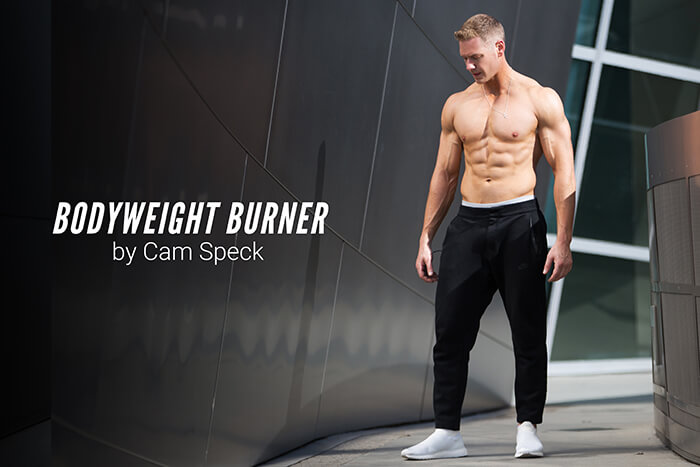 Tell us about the philosophy behind Bodyweight Burner.
I believe the body is meant to move. I know that performing to your highest potential requires a consistent fitness and nutrition routine. As humans we are built to progress, we are built to grow. Setting a foundation with health and fitness will give you the strength, the discipline and confidence to absolutely crush anything in your life.
I designed this plan with busy people in mind. I know what it's like to have minimal time in the day to work out. The workouts in the plan were created to be completed within 30 minutes. This includes a full dynamic warmup and a full cool down.
Studies show that exercise impacts cognition and leads to a happier, healthier life. So what I'm saying is that you can exercise to not only craft a great physique and improve the way your body moves and performs, but you can actually improve your mind and become smarter.
Cardiovascular exercise like the HIIT training you see in Bodyweight Burner have been proven to create new brain cells, (aka neurogenesis) and improve overall brain performance. Studies suggest that engaging in a tough workout increases levels of a brain-derived protein known as BDNF (brain-derived neurotrophic factor) that improves mood, decision making, and higher abilities for creative thinking and learning.
You need no equipment to complete these workouts. They can be done at home, at the gym, in your hotel room, outdoors or anywhere with a few feet a space.
The workouts are short but very effective. I selected my favorite multi-joint bodyweight exercises to target every area of your body. If you are looking to shred fat, improve the overall function and mobility in your body, learn new exercises and sweat, this plan is for you.
What's your favorite exercise in Bodyweight Burner?
I would say spiderman pushups. If done correctly, this is a full body exercise activating every muscle group and challenging your core.
What was it like to be in front of the camera this time instead of behind it?
I love being in front of the camera. I have a strong mission to improve the lives of millions of people through health and fitness, and sharing that message is very important to me.
Ready for Bodyweight Burner? Get started for free.
In general, what inspires you to stay consistent?
I love working out. I love challenging myself on a daily basis. Working out for me is a part of my lifestyle. Setting a foundation for your best life through health and fitness will allow you to perform better in anything that you do. Consistency is key if you're looking to grow and progress in any area of your life.
When you feel like giving up, what keeps you going?
Giving up is not an option for me. I run a business encouraging others to push past their comfort zone, to keep going when the going get tough and to not give up. This means I need to be the leader of that movement. You can show people that anything is possible when you believe in yourself.
It's all about mindset. Tell us about yours.
Cultivating the mindset of a champion is the first step to greatness. It's all about the belief you have in yourself and setting yourself up to win. When you set a goal and hit it, you build your internal confidence in yourself. You then set a bigger goal and hit it. Once you do this enough, the goals become bigger and bigger and your internal confidence and belief system become so strong that you truly believe you can accomplish anything you set your mind to.
Being a part of Fitplan is not a job, it is a lifestyle. We don't measure hours or days worked, we measure impact and results. We have a mission to help millions of people world wide live their best lives through health and fitness. As an organization we focus on growth both personally and professionally knowing that as we learn, grow and become better individually, we can give our best to the work we provide and the impact we can have on our customers and the people around us.
What are your thoughts on self care and how do you practice it?
You are the most important person in your life. If you are not at your best, how can you give your best to those around you? If you are not healthy, how can you share your best energy with those around you? If you are not happy, how can you make those around you smile?
It is so important to intentionally carve out time in each and every day to work on your physical, mental, emotional and spiritual side of yourself.
Every day I ensure to meditate, to journal and intention set, to read, to exercise, and to fuel my body with incredible nutrients to ensure I am showing up in the best state possible.
I incorporate yoga twice per week into my fitness routine to stay grounded, flexible and mindful. Training your body requires mind-to-muscle connection and yoga helps to create the awareness and mental space to focus inward.
I work out everyday, not because I have to, but because I want to. I work out first thing in the morning before I get to the office. This is a first morning win and sets the tone for the entire day. It also gives me incredible amounts of energy to share with those around me.
Working out for me is not just about the body but also about the mind. Working out has so many mental benefits so you are actually doing yourself a disservice if you don't.
It's easy to say "follow your dreams," but how can someone actually reach them?
Again this goes back to the relationship you have with yourself. Most people who do not hit their goals are standing in their own way. They can't get out of their own head and constantly tell themselves the story that they may not be good enough, may not be smart enough, may not be strong enough, or have the fear of looking inadequate to the public eye.
Set a clear intention of what you want, believe in yourself, take massive action to make your dreams a reality.
Does Bodyweight Burner sound right for you? Get started for free!