Take your breakfast game to the next level with Mealplan Nutrition Expert Cam Speck's delicious, high-protein Breakfast Bowl with veggies, rice, and salsa. Seasoned, grass-fed beef is served with whole eggs for their nutrient-dense yolks and egg whites for even more lean protein.

Cam's Breakfast Bowl Prep recipe covers one serving, but we recommend doubling or tripling the recipe to create three day's worth of high-protein breakfasts. This bowl has everything you need to get your engine started for an action-packed day.

Eggs are a breakfast staple, not only because they're tasty and versatile, but because they're brimming with powerful nutrients. Eggs contain the highest biological level of protein, along with omega-3 fatty acids, vitamins A, B, E and K, and nutrients like phosphorus, selenium and folate. Many people believe eggs are the "perfect food" from a nutritional standpoint.

Beef! Because all that protein in the eggs just isn't enough, this recipe includes lean ground beef, which packs an additional protein punch, along with another boost of vitamins and minerals.

White rice. People have mixed feelings about rice, especially of the white variety. However, it's been found that there is no significant nutritional difference between white and brown rice. Both carbohydrates contribute to your daily macro balance.

Prep this Breakfast Bowl on a Sunday and wake up ready to chow down and fuel up. If you're a breakfast-for-dinner type of person, feel free to prep this for supper too.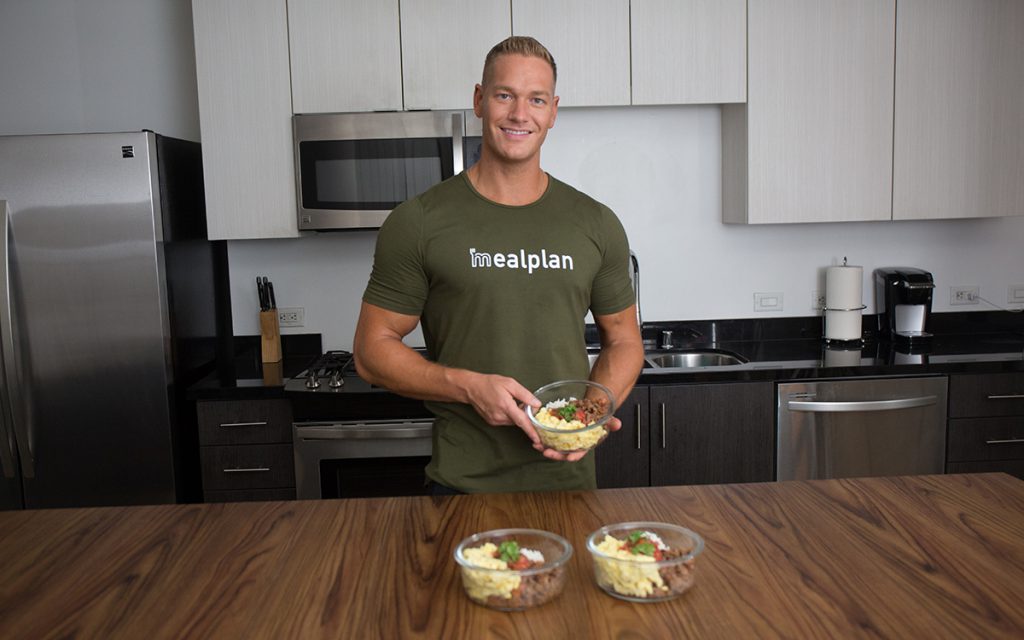 Hearty Breakfast Bowl Prep

Ingredients

1/4 cup white rice, uncooked
1/2 cup water
3 oz lean ground beef
1/2 red onion
1/4 cup tomato
1 tsp chili powder
1/4 tsp cayenne
1/4 tsp coconut oil
2 eggs
2 whole egg whites
1 tsp black pepper
1/4 cup salsa
Directions:
Watch Cam's mini tutorial above.

To prepare rice:
1. Place rice and water in a medium pot with a lid (for each 1 cup of rice, use 1½ cup water). Bring to a boil.
2. Reduce heat to low; cover pot with a lid. Cook, covered, 18 to 20 minutes.
3. Remove from heat and allow rice to steam in the pot for 5 minutes. Fluff with a fork before serving.

To prepare beef:
1. Preheat a skillet over medium-high heat. Add beef, onion, tomato, chili powder, and cayenne.
2. Stir to break apart beef into crumbles. Cook until beef is browned and onions are soft, about 8 to 10 minutes.

To prepare eggs:
1. Break eggs into a medium bowl. Add egg whites; whisk to combine.
2. Preheat a skillet over medium-low heat; add coconut oil.
3. Add eggs and pepper.
4. Gently pull the eggs across the pan with a spatula or wooden spoon, releasing cooked eggs from pan. Cook, continuing to stir, until eggs have thickened to your liking and no liquid remains.

To complete meal prep:
Place rice, beef mixture, and eggs in a meal prep container. Top with salsa. If making more than one portion, divide ingredients evenly between each container.

Nutrition

1 serving

606 calories

40.7 grams protein

49.7 grams carbs

26.3 grams fat

2.3 grams fiber

6.4 grams sugar

Inspired to make this Hearty Breakfast Bowl ? Share it on Instagram for a chance to be featured. Tag @mealplan_app and #MyMPRecipe.