These are the ultimate chocolate lover's dessert.

Made with natural ingredients like oat flour, bananas, and Greek yogurt, our banana bread brownies are rich in flavor and sweetness making them a perfectly delicious and healthy alternative for when you don't want added sugar.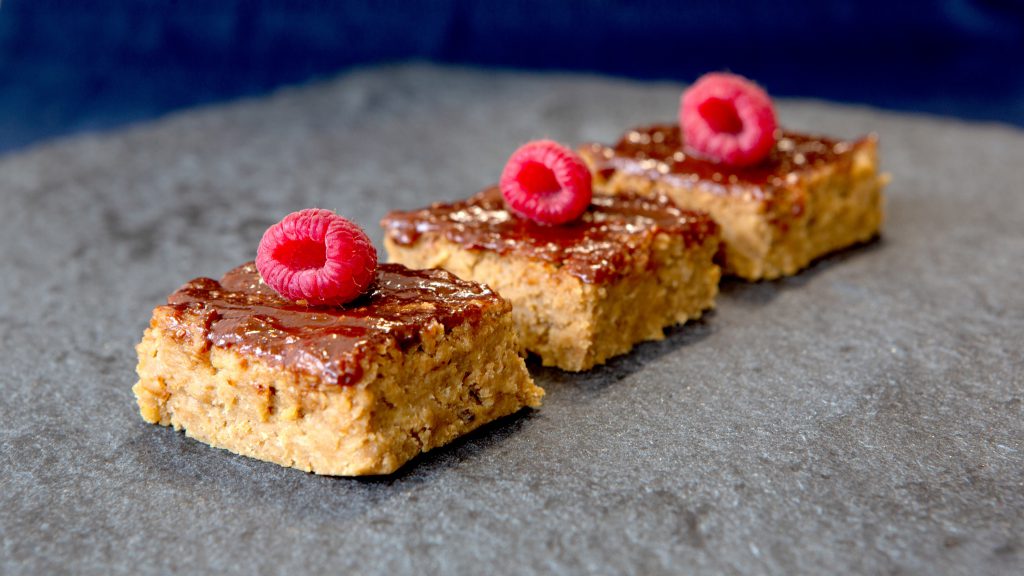 Banana Bread Brownies
Ingredients

Brownie Batter

3 bananas
2 eggs
2 cups oat flour
1 cup plain greek yogurt (2%)
1 cup beet sugar
¼ cup dark chocolate chips
⅔ cup almond milk (unsweetened)
2 tsp vanilla extract
¼ tsp sea salt
Chocolate Drizzle

¼ cup almond butter
1 tbsp cacao powder
1 tbsp honey
2 tbsp water
Cooking Instructions
Preheat the oven to 350°F / 175°C / Gas 4
In a medium bowl mash the banana with a fork until smooth.
Add greek yogurt, almond milk, eggs, sea salt, and vanilla extract. Mix well.
Add the oat flour and beet sugar to the wet mixture, and fold in the chocolate chips (if using).
Grease a 9×13 baking dish with coconut oil spray and oat flour.
Pour the brownie mixture into the baking dish and bake for approximately 18 to 20 minutes.
While the banana bread is cooking prepare the chocolate drizzle (if desired).
In a small bowl, mix together the almond butter, water, cacao powder, and honey.
Once the banana bread has finished cooking top it with the chocolate drizzle and enjoy!
Nutrition (8 servings)

Calories 217
Protein 5.4g
Carbs 32g
Fat 7g
Fiber 3g
Sugar 9g
Inspired to make our Banana Bread Brownies? Share it on Instagram and tag @fitplan_app with the hashtag #ieatwithfitplan