Loaded with veggies, this Bliss Bowl with Almond Tamari Dressing by Mealplan Nutrition Expert Michie Peachie is sure to please even non-vegans.

Chickpeas, quinoa, and cauliflower provide a healthy dose of complex carbohydrates and dietary fiber to keep you feeling satisfied throughout the day. This hearty and easy-to-prep vegan bowl is topped with a delicious tamari almond dressing.

What is tamari? Tamari is a Japanese sauce made from fermented soybeans; it's often used as a gluten-free soy sauce alternative. Combined with creamy almond butter, the almond tamari dressing ties this bowl together with a delicious sweet-meets-savory balance.

Roasted beets along with raw spinach and carrots brighten up this bowl with fresh flavors and nutrition, plus the roughage your body needs to perform at its best. At two servings, you can make this a meal for you and a friend, or prep two days' worth of lunches or dinners.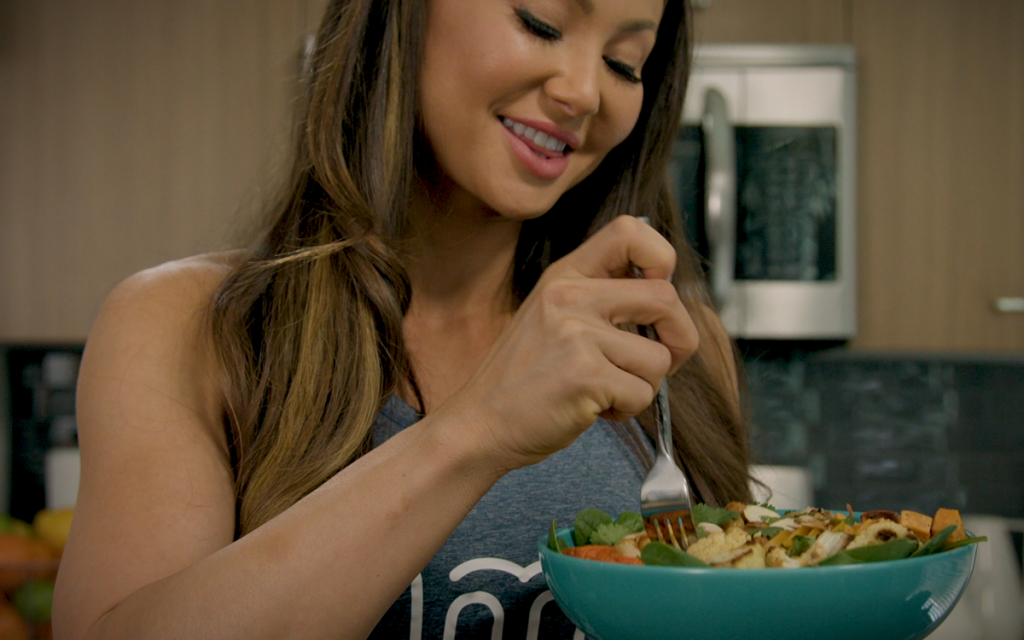 Vegan Bliss Bowl with Almond Tamari Dressing

Ingredients

Bowl Ingredients

1/3 cup uncooked quinoa
2 golden beets
1 sweet potato or yam
1 carrot
2 cups cauliflower florets
2 tsp evoo
1/4 tsp sea salt
1 tsp black pepper
4 cups baby spinach
1 can chickpeas
2 tbsp sliced almonds
1 tbsp cilantro

Almond Tamari Dressing Ingredients

2 tbsp almond butter
2 tbsp tamari
1 tsp fresh ginger
2 tsp honey
1 tsp water

Directions
Watch Michie's mini tutorial above.
To prepare the quinoa:
1. Rinse quinoa under cold water.
2. In a medium sized pot, bring quinoa and water to a boil. Reduce heat to low, let the quinoa simmer for 10 to 15 minutes or until tender and the liquid has absorbed. Set aside.

To prepare the veggies:
1. Spray a rimmed baking sheet with cooking oil spray. Place chopped sweet potatoes, chopped carrots, and cauliflower onto the baking sheet and drizzle with olive oil and season with salt and pepper. Add the baking sheet to the oven and bake for about 20 to 25 minutes or until the sweet potatoes are tender when poked with a fork.

To prepare the beets:
1. Preheat oven to to 400°F/200°C/Gas 6. Line a baking dish with aluminum foil. Add the beets to the baking dish, cover tightly with aluminum foil. Bake for approximately 30 to 35 minutes or until the beets are tender when poked with a fork. Once the beets have finished baking, remove from the oven and let them cool. Remove beet skin using a peeler/small knife. Trim off both ends of the peeled beets. Slice the beets to form thin-rounds. Transfer beets to a small plate.

To prepare the tamari almond dressing:
1. In a small bowl, add almond butter, tamari, ginger, and honey. Mix well. Add a little water for a thinner consistency. Set aside.

To assemble the bowls:
1. Evenly line the bowls with fresh baby spinach, cooked quinoa, chickpeas, sliced beets, baked carrots, cauliflower, and sweet potato. Evenly drizzle the bowls with the tamari dressing and top with sliced almonds. Optional to garnish with cilantro. Enjoy!

Nutrition Info

2 servings
443 calories per serving
13.6 grams protein
56 grams carbs
19.3 grams fat
11.4 grams fiber
14.4 grams sugar
Inspired to make this Bliss Bowl? Share it on Instagram for a chance to be featured. Tag @mealplan_app, #MyMPRecipe.