Get your taco fix, plus loads of clean nutrients with this Taco-Stuffed Sweet Potato recipe by Mealplan Nutrition Expert Michie Peachie.

Sweet potatoes are packed with vitamins A, C, and potassium. They're the perfect source of complex carbohydrates to provide you with a steady source of energy. Sorry, tortillas, you're great and all, but sweet potatoes beat you by a long shot in the nutrition department.

Filled with lean ground turkey and chickpeas, this dish provides you with a ton of protein and all the essential macro and micro nutrients to fuel you through the day.

To mix up the flavors, Michie tops these tacos with a homemade tahini dressing for a unique twist on your Taco Tuesday.

The best part is this recipe creates four days' worth of lunches or dinners. Just assemble in glass containers and store in the fridge for a healthy and hearty meal that will keep you on track.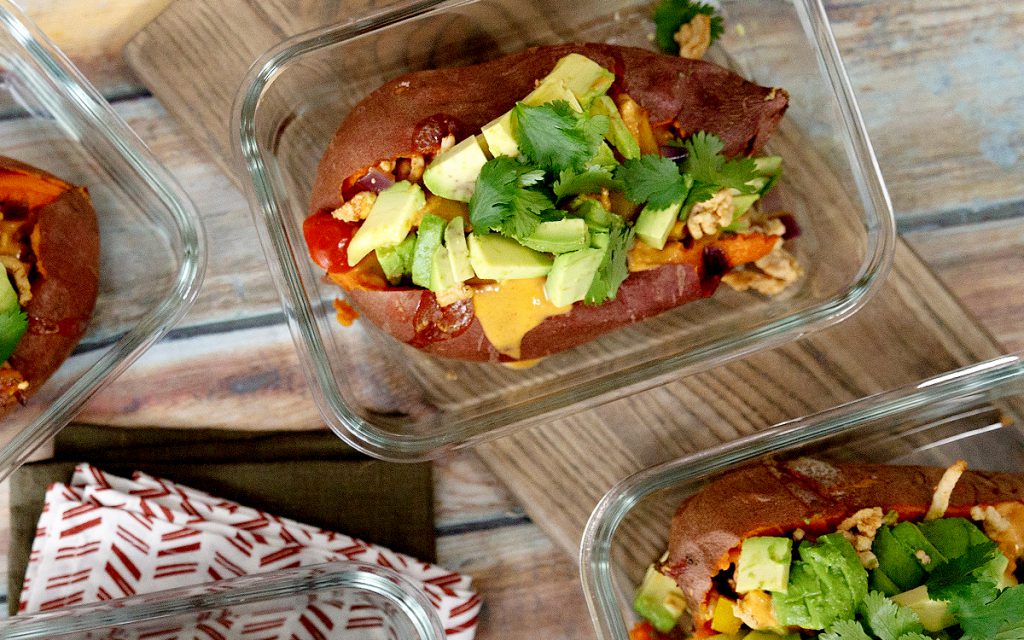 Taco-Stuffed Sweet Potatoes

Ingredients:
4 sweet potatoes or yams
1/2 tbsp EVOO
16 oz lean ground turkey
1/2 cup red onion
1 cup chopped yellow bell pepper
10 cherry tomatoes
1 avocado
4 tbsp pico de gallo
4 lime wedges

Tahini Dressing:
2 tbsp tahini
1 tbsp fresh lemon juice
1 tsp hot sauce
1 tbsp water

Taco Seasoning:
1 tsp garlic powder
1 tsp ground cumin
¼ tsp sea salt
½ tsp paprika
2 tsp chili powder
1 tsp dried oregano

Directions

Watch Michie's mini tutorial in the video above.

To prepare the sweet potatoes:
1. Preheat oven to 400°F/200°C.
2. Wash sweet potatoes. Poke with fork 2-3 times to release steam while baking.
3. On a parchment lined baking sheet, bake for approximately 45-50 minutes or until soft.

To prepare the tahini dressing:
1. Add tahini, lemon juice, hot sauce, and 1 to 2 tablespoons of water to a small bowl. Mix until well combined. Add more water for a thinner consistency.

To prepare the taco stuffing:
1. While the sweet potato is baking, heat a large pan on medium heat. Add olive oil. Add in lean ground turkey. Stir and cook for about 2 to 3 minutes or until the turkey has browned and is cooked through.
2. Stir in the red onion, yellow bell pepper, and cherry tomatoes along with all of the taco seasonings. Turn off the heat.

To assemble the tacos:
1. Add the sweet potatoes to glass meal prep containers (1 sweet potato/container).
2. Using a knife, slice the top of the potato open lengthwise.
3. Using a fork, mash the inside of the sweet potato and create a "well" to make room for the turkey-veggie topping. 4. Evenly divide the turkey-veggie topping amongst the sweet potatoes.
5. Evenly divided the diced avocado, pico de gallo, and tahini dressing (if using).
6. Add a lime wedge to each meal prep container. Seal and store in the refrigerator until ready to eat! Enjoy!

Nutrition and Macros:

4 Servings, 488 calories per serving
27 g protein
49 g carbs
21.5 g fat
11.3 g fiber
16.5 g sugar
Inspired to make these Taco-Stuffed Sweet Potatoes ? Share them on Instagram for a chance to be featured. Tag @mealplan_app and #MyMPRecipe.