Resistance band workouts create constant tension on your muscles to quicken exhaustion and spur on muscle growth. You may have seen bodybuilders with broad, rippled backs deadlift with barbells or pump tons of iron. Resistance band back exercises might not build world-class back muscles, but they do build plenty of strength and muscle for lifters at more common fitness levels.
In addition to their effectiveness, banded back exercises are one thousand times more convenient. If you can't make it to the gym for one reason or another, you can pack a resistance band in your bag and get in a back workout anywhere, even on short notice. For those who do have access to gym machines or larger weights, the resistance band can be incorporated into those routines as well for an even more intense workout.
Learning how to use a resistance band properly takes a bit of time, but the process is well worth the stellar results. Use the 10 best exercises in this guide to build a resistance band back workout that fits your schedule, body type, and fitness goals with as little fuss as possible.
(Note: Want our elite trainers to help you tone and strengthen your back? Start your Fitplan free trial today!)
Resistance Bands Vs Traditional Strength Training
There's no denying that lifting with barbells, dumbbells, and gym machines will get you a huge back. When it comes to building the largest possible muscles, that kind of strength training reigns supreme. But resistance bands have been proven to provide similar strength gains to resistance training with weights alone. It's only when you're trying to turn yourself into the next Austrian Oak that the difference between banded training and traditional weight-based strength training kicks in.
And for that matter, even if you are a professional bodybuilder or trying to maximize your gains with barbells and dumbbells, the resistance band can still be brought in to put additional strain on your muscles. This will promote full muscle exhaustion and increase hypertrophy in the end. Besides, if you're trying to build muscle it never hurts to sneak in a quick banded back workout session when time is of the essence.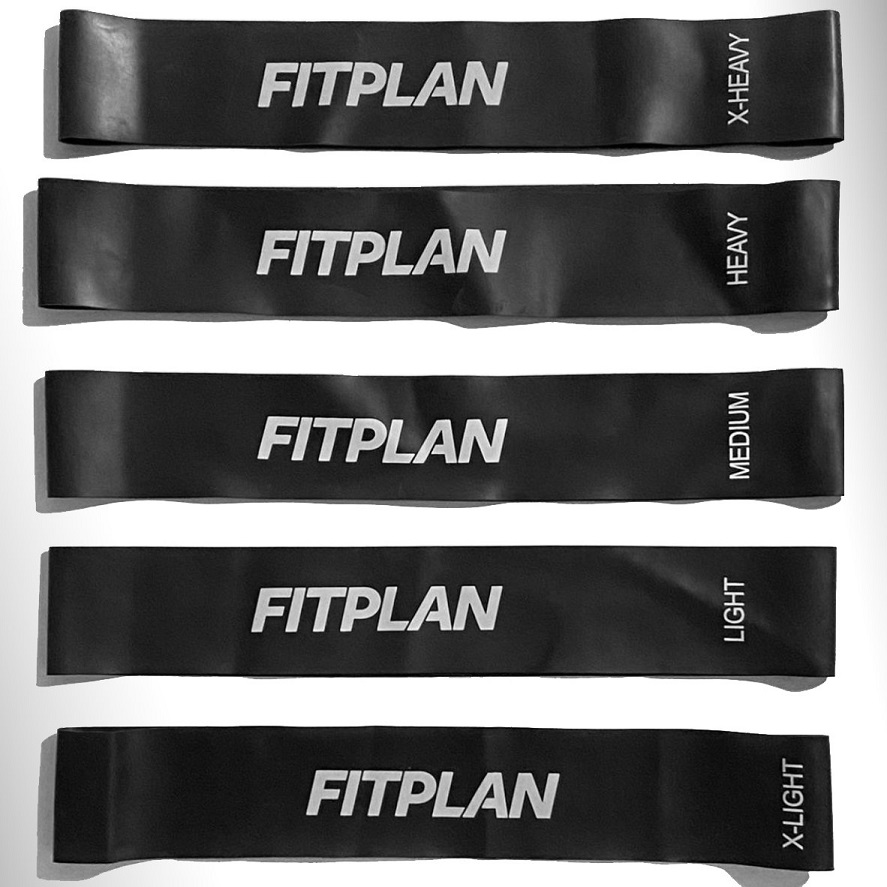 Benefits of Banded Back Exercises
Understanding the importance of a barn door back is the first step in building one. Although we divide the human body into different muscle groups to make it easier to target specific areas, the whole thing works together. The back is at a critical location where it forms the bridge between the neck, shoulder, core, and hips.
Building strength in your back muscles helps protect all these areas from injury. It will make daily activities and chores much easier and, if you already have existing back problems or a history of injury, working out your back can help reduce pain. Almost everyone will benefit from back exercises in our computer-centric society – too many of us spend long periods hunched over keyboards or slouched over while we enjoy some much-deserved relaxation in front of the TV.
Helpful Hint: Take your weightlifting to the next level with our Strength Gains Fitplan!
The posterior chain, which is the name given to all the muscles on the back of your body, can be exercised with an intense back workout to provide more strength and stability to the entire body. Your glutes, hamstrings, erector spinae, traps, and posterior deltoids are all involved in the posterior chain.
Since the spine is so central to your body's various functions, building this posterior chain (especially the erector spinae) is one of the smartest things you can do. A strong back is required for reduced risk of injury and improved performance in daily life and in complex lifts at the gym.
10 Best Resistance Band Back Exercises
There are many good exercises that will work part of your posterior chain and bring your back muscles into the equation, but we've assembled the best of the best here so you can build the most optimal back workout possible. Try a few of these moves out to build the best back workout you possibly can: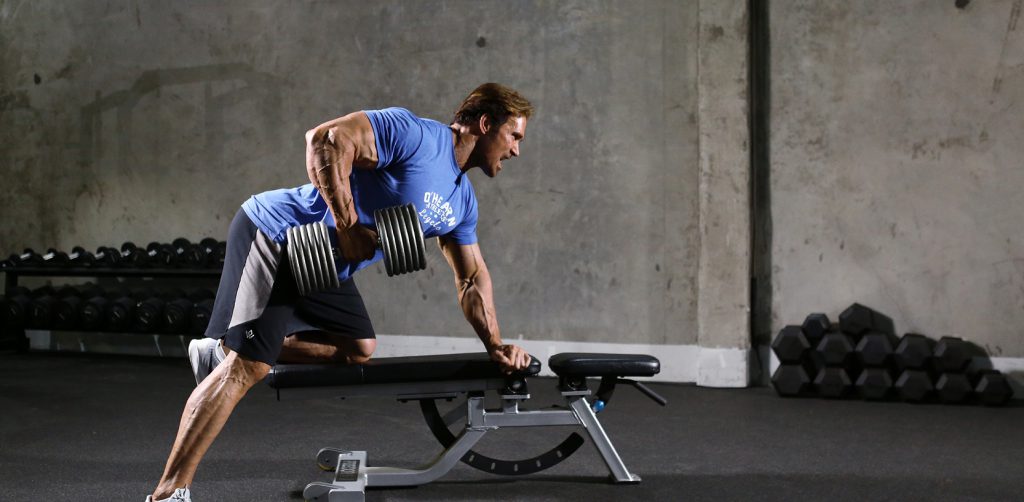 1. Single-Arm Row
You might be familiar with single-arm rows as an exercise that requires a dumbbell and a bench, but you don't need any of that equipment as long as you have a loop resistance band you can pass around both feet. Warm up for your routine with this move to prime your latissimus dorsi and other critical upper body muscles like the traps, delts, rhomboids, biceps, and brachialis.
To get into the starting position for the banded single-arm row, loop one end of the resistance band around either foot. Lean forward like you're about to get into a lunge stance, but don't move your torso. Brace yourself on your forward knee with the hand on the same side of your body.
Lean down and grab the center of the band. Pull the middle of the band up to your chest and then bring it back down again, making sure to keep your back straight throughout the move. Alternate the forward leg so you can target both arms evenly.
2. Reverse Fly
This exercise mimics a dumbbell bent-over reverse fly and targets the rear deltoids. Other important shoulder muscles will also be involved, making this a solid move for ensuring shoulder joint safety while also building back strength. 
It's a really simple exercise that gets both arms involved at once so you don't have to worry about switching off after each set. The bent-over stance for this fly also puts your back front-and-center, although your pecs will see some activation as well. 
You can perform the banded reverse fly in two ways. First, you could pass your resistance band behind or tie it low around a vertical post and take either end of the band in each hand. If you can't find any such vertical post, you can step on the middle of the band with both feet and take either end in each hand.
Don't lock your arms out completely, but make sure to keep them straight throughout the exercise. Your lower back should be bent so your forehead aims toward the floor. Pull both ends of the resistance band as high as they'll go by pulling both arms out to the side simultaneously.
Squeeze your shoulder blades together when the band is stretched out, then slowly return to the starting position to complete one rep.
3. Lat Pulldown
A classic move for anyone trying to build a strong upper back, lat pulldowns are essential in any weekly routine. Your latissimus dorsi is a large muscle and it needs targeting with moves like this one.
You'll need to find a high anchor point for your resistance band. Somewhere above your head will do, like a door frame for example. Stand or kneel a few feet away from your anchor point with the other end of the resistance band in your hands.
In the starting position, your hands will be above your head so that the band is only stretched slightly. To complete this exercise, stand with your feet hip-width apart and pull the band down to your hips.
The biceps, rotator cuff, pectoralis minor, and important forearm muscles are all employed by the lat pulldown in addition to your lats, which will see the most activation overall.
Helpful Hint: Check out our Kettlebell Power Fitplan for some strength training moves that will greatly strengthen your posterior chain!
4. Banded Pull-Ups
Nothing matches the trusty pull-up for building a huge back. It might look like the addition of a resistance band gives you support and makes the pull-up motion easier, but that's not quite the case. While a band will assist in the beginning of the move, it offers little support when you're closest to the bar, which is where most people are weakest.
If you're trying to build up to your first pull-up, a resistance band can cause uneven development of strength and delay achievement of the final goal. Reverse pull-ups and other bodyweight exercises are better for building pull-up strength if you can't do many traditional pull-ups.
If you want to increase your pull-up count, though, you can arrange the resistance band in a different way to make the move more challenging. Rather than looping one band around the horizontal bar, anchor two to each of the vertical bars and wrap one half of each over your neck.
From there, the pull-up movement is the same. Grab onto the horizontal bar with an overhand grip and then lift your feet to get into a dead hang. Lift your body with your shoulder blades until your head clears the bar completely and then slowly return to the starting position.
5. Banded Deadlift
You don't need any barbells for this resistance band deadlift, which relies on the tension of the band to work your muscles. Increase the resistance level for a more challenging exercise. You'll work your lower body as well as your lats and lower back muscles with this full-body exercise. 
First, loop the resistance band around both feet and get into a wide stance with your feet shoulder-width apart. Bend at the knees and keep your chest up while you grab the middle of the band with your left and right hands. Keep your butt out a bit by contracting your glutes and pull the resistance band up until you're completely upright again.
Return to the starting position, which is when you still have a grip on the middle of the band but your hands are down by your feet. Make sure to keep a straight back throughout this exercise.
6. Bent Over Row
Stimulate your rhomboids, lats, traps, and rotator cuffs with this exercise. Your erector spinae, biceps, forearms, hamstrings, and glutes will also get a workout. It's the perfect move for anyone who doesn't have much time to exercise, say between errands at home or on a break at work.
Make sure to wear tennis shoes when you do this exercise to minimize the risk of slipping. Stand on the middle of the band with both feet about hip-width apart. Take each end of the band in your right and left hands.
To do this, you'll want to hinge at the waist and stick your butt out. Keep a straight back as you reach down to take each end of the band. There should be a straight line from your shoulder blades to your head.
Once you have the ends of the resistance band in hand, pull the band up while keeping your shoulders in at your sides. Don't let your upper arms do the lifting – your shoulder blades and back should be doing it. When your elbows form a 90-degree angle, lower the band to the starting position.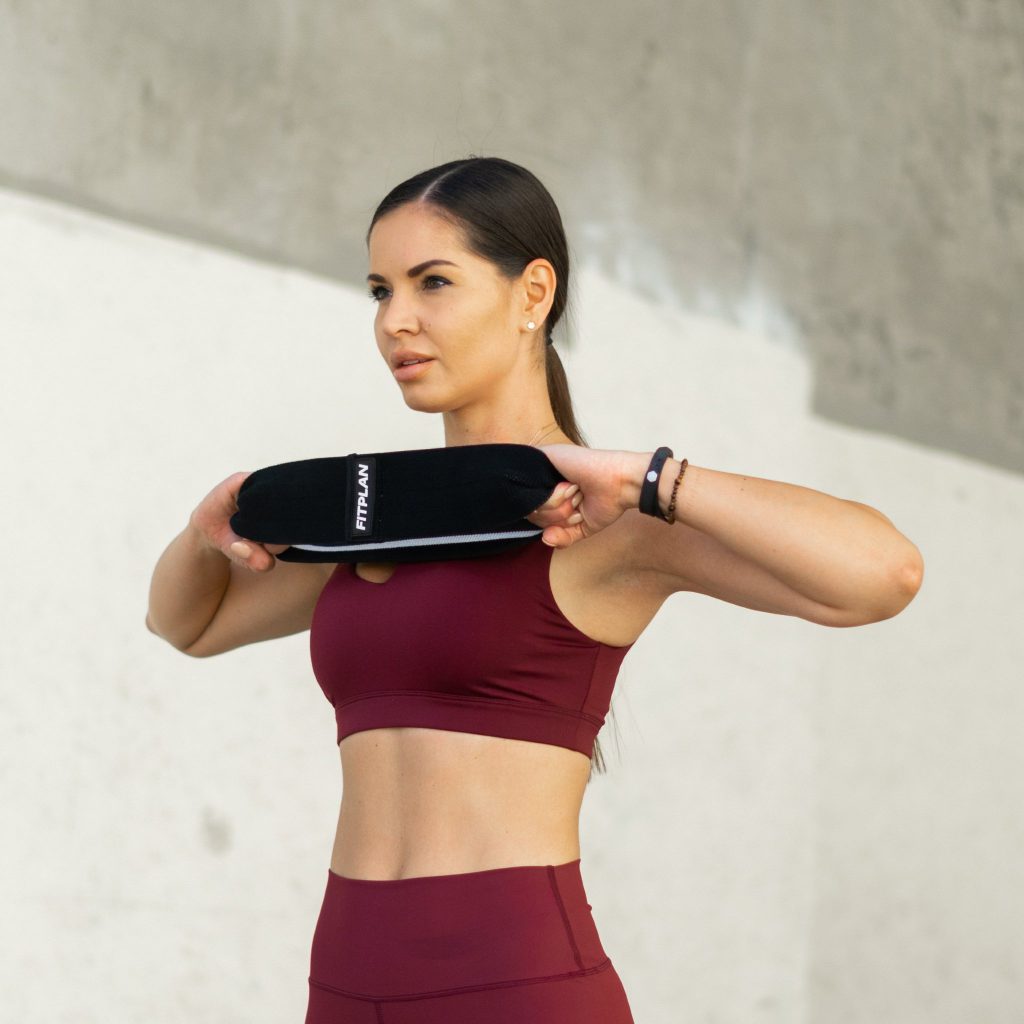 7. Pull-Aparts
A great warm-up or cool-down exercise, pull-aparts are straightforward and so simple to execute that you can get in a set just about anywhere. All you need is a resistance band. Your shoulder muscles will get a good workout alongside major back muscles in this move.
Take either end of a loop resistance band in each hand. Stand with your feet anywhere between hip-width and shoulder-width apart. Your left and right hand should each be in front of their respective shoulders at shoulder height. 
Without bending your back or adjusting the position of your feet, stretch the band straight out to each side. Go as far as you can without bending your elbows to accommodate the strain. At the furthest position, clench your shoulder blades and hold for two seconds before returning to the starting position.
As simple as this move sounds, it's better to start out with lower resistance levels if you can't pull the band very far apart. Getting through the full range of motion for more reps is better than doing just a few reps with a shorter movement and will give you greater functional strength.
Helpful Hint: Find more lower-body resistance band exercises in our Fit From Home Fitplan!
8. Kneeling Superman
It might not seem that complicated, but this is one of the more advanced back workouts in this guide. The resistance band has to stretch over the length of your entire body, so make sure you know what you're doing before you jump in with the banded version. Practice mastering the form without the resistance band to reduce the risk of injury. 
For kneeling supermans, you have to get down on your hands and knees. Make sure your spine is slightly arched and look up ahead of you to keep your neck straight. The resistance band should be on opposing hands and feet – so, right hand to left foot or left hand to right foot.
Lift the hand and foot that are banded up as high and as far out as you can. The band should stretch over and across your body. Hold the top position for a few seconds and then return to the starting position. Remember to switch sides for an even workout.
9. Good Morning
Target your lower back with this oddly-named exercise. Your abs and hamstrings will also be activated. If you get really good at good mornings, you can add a barbell for an even harder workout, but the banded version works fine too.
Stand on one end of a loop resistance band and wrap the other end over your head so it rests on the back of your neck. Arch your lower back slightly to accomplish this. To get into the starting position, you'll be hinging at the hips to accommodate the resistance band without stretching it too much.
Slowly rise into a standing position. You'll feel the strain on your lower back as you do so. When you reach the top of the move, hold it for 2 seconds and then slowly return to the starting position.
10. Face Pull
Face pulls with a resistance band principally work your rear deltoids, but they also strain your rhomboids and middle trapezius muscles. They build the strength you need to bring your shoulder blades together, which is important for daily activities, complicated lifts, and pull-ups. 
You'll need to find an anchor point at about hip-level to do this move. If possible, a sturdy pole is the best option. Wrap the band around your chosen anchor point and then stand away from the anchor point so the band is just starting to stretch.
Start with your arms straight and pointed at the anchor point. Make sure your hands are in line with your shoulders. Pull the band toward your face while lifting your elbows to get more clearance past your shoulders.
Hold the furthest point of the stretch and then slowly return to the starting position. The number one mistake people make with this move is going too fast. That can spell disaster for your shoulders and cause you to use improper form, so take it slow.
Helpful Hint: Build a barn door back with our guided Bro to Pro Fitplan!
Conclusion:
A huge back is great for bodybuilders, but everyone should have enough strength in their back muscles to stabilize their body and make daily activities easier. Resistance band exercises are a fantastic way to reduce the risk of injury to your back and other critical muscles that work alongside it in your shoulders and hips.
Most of these resistance band back exercises also target lower body muscle groups like the quads, hamstrings, and glutes. You can add weights to some of them to create a more strenuous upper body workout or use them at the gym on leg day. Wherever you are, these banded back exercises are a convenient and effective way to build a huge muscular back.
(Note: Want our elite trainers to help you build a resistance band routine? Start your Fitplan free trial today!)